Act 2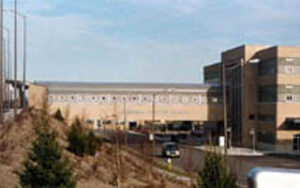 Fade In:
Int.
Lucas County Jail – Toledo – Morning
The jail's matron led Faith down the stark hallway. The Slayer, her hands cuffed behind her back, tried to keep her face expressionless, but her dark eyes reflected her worry. She was wearing a pasty orange jumpsuit that she looked all too familiar with.
"Where you takin' me?" she asked the matron.
The woman's voice was filled with boredom. "Your lawyer's here," she answered.
Faith didn't reply, just kept walking steady until they finally reached a gray-painted door. The matron first unlocked the handcuffs, then pushed open the door. "Have fun," she said.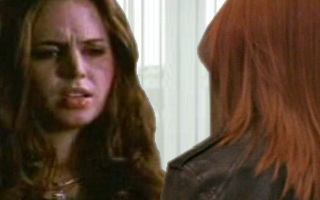 Faith walked into the room and heard the door close behind her. Willow was sitting at the scratched and pitted table, an open briefcase before her. She was dressed in a long skirt, tailored blouse and stylish boots. Faith took a seat across the table and just looked at the witch.
Willow gave her a small, reassuring smile and asked, "Are you okay?"
"No trauma. I'm good," Faith shrugged.
"What happened?" Willow pointed at the large, but already fading, bruise on Faith's cheekbone.
Faith shrugged, "Some Bertha didn't believe me when I said I was involved with someone."
"Did you hurt her?" Willow asked.
"No, guard pulled her off of me and took her away," Faith fiddled with the frayed edge of her jumpsuit, not meeting Willow's eyes.
"I see," Willow said, a small smile gracing her lips. "And yesterday? How'd you manage to get arrested?"
"Just not paying attention, that's all," she said with a bit of defensiveness. "Got any smokes? I ran out last night."
"Sorry," Willow said. "I forgot, but we'll get some, okay?"
Faith sighed and nodded. "Look Will, I appreciate you acting the part of my lawyer and coming down, but I know I'm totally screwed. I've got a one-way trip back to hard time in California. I'm just sorry I let the Council down."
Willow paused for a moment and watched how Faith sat. Shoulders slumped; chin practically resting on her collarbone.
"When the cops pulled you over yesterday, why didn't you make a break for it?" Willow asked. "On that bike of yours I'm sure you coulda outran them."
Faith snorted and then smirked, "That's for damn sure. No one can beat my Indian."
"Then why?" Willow repeated.
For the first time, Faith looked up at Willow and met her eye, a pained expression on her face. "We were coming into the city and if I jumped, a chase could have gotten someone hurt. I know my limits, but stupid cops take too many chances sometimes."
Willow nodded. "So you risked going back to prison to prevent putting others at risk?"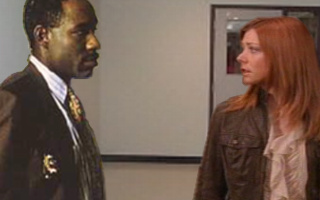 Faith rolled her eyes, "Don't make it out to be more than it is Red, okay?" Before Willow could reply, the door opened and a detective came inside. Willow rose to her feet.
"Okay Ms. Williams," he said, addressing Willow and laying another folder in front of her. "I think we've managed to get everything sorted out."
Willow opened the file and glanced at the papers within. "Thank you, Detective. If you'd be so kind as to leave us for a few minutes, I'll explain everything to my client and have her sign these."
"Sure thing," he said, backing toward the door. Faith looked on in surprise at the deference he was showing to her companion. "Take your time, I'll be right outside. And ma'am," he added to Faith. "Our sincere apologies."
"Thank you," Willow said, dismissing him. He gently shut the door behind him.
"Ms. Williams?" Faith asked.
Willow grinned and showed Faith a bar association card with the name and picture. "Willow Williams – attorney at law and at your service. Andrew made it. Not bad, huh?"
Faith simply grinned.
"Here," Willow said, pushing a document and a pen at Faith. "Sign."
"What's this?" she asked. "My extradition papers?"
"Not so much," Willow said, looking through the folder and laying each paper before Faith as she went. "This document states that you haven't suffered any harm at the hands of the Toledo Police Department. I'm assuming you haven't, despite the encounter with your 'Bertha'?"
"What?" Faith said, confused. "No…"
"Good," Willow said, pushing more pieces of paper at Faith. "These three are an agreement saying that you will not take any legal action against the Toledo Police Department, the City of Toledo or the State of Ohio for false arrest."
"False arrest?" Faith exclaimed. "Willow!"
The redhead reached across the table and covered Faith's mouth. "Shhh."
"What's going on?" Faith asked in a quiet voice.
"And this," Willow said, a bright smile lighting up her face. "This is a letter of apology signed by the mayor of Toledo for your unfortunate experience."
Faith blinked before taking a moment to read over the paperwork. Willow continued, "This was all one big mix-up. Seems there was a convicted felon with the same name as yours and a remarkable resemblance to you out in California. Sadly, she died while attempting to escape from the state correctional institution last spring. There was a bit of confusion regarding the paperwork, but I think we've got it sorted out now." Willow gave her a conspiratorial smile.
"But… prints?" Faith said, showing Willow her hands. "That was the first thing they did when I got here."
"Yeah, seems California had a bit of a computer problem late last night and that poor girl's prints were lost. And according to courthouse records her body was cremated. So they won't be getting any more. And as for the prints they took yesterday and any hard copy record they received? Well, somehow, they magically changed to ink smudges."
"And the national database?" Faith asked with a smile, beginning to grasp what was going on.
"Must have been a bad virus. Seems it affected every database here and abroad, including Interpol," Willow shrugged. "Point is, there's no other record out there. With no prints, a death certificate…well, they have no reason to hold you. Burden of proof is on them. They can't prove you've ever been incarcerated, or even committed a crime, for that matter." Willow straightened her blouse and squared her shoulders. "So my dear client, it is in my expert legal opinion that you sign these papers so we can get the heck outta here. Okay?"
Faith grinned and finished signing the papers and slid them back to Willow who gathered them up and neatly tucked them in the folder.
"Why now?" Faith asked. "You could have done this at any point before. Hell, I could have been on a plane instead of on the road. None of this would have happened."
Willow pursed her lips. "I'm gonna be totally honest, Faith. We didn't trust you."
Faith crossed her arms and settled back into her chair. "And now?" she asked softly.
Willow took a deep breath. "Giles and I had a talk yesterday. We had to make a decision: Let you go back to California or give you a second chance. A-and like I told him, everyone gave me a second chance to prove myself, so you deserve the same. But even that aside…We need you Faith. You've got experience and wisdom you can pass along to the girls we bring in."
"Hey I'm no grand master slayer, Will," she began. "I've made serious mistakes."
"It's called life. And you can help these girls by telling them where you've been and what you've learned. Maybe they won't make the same mistakes you did." Willow told her. "Maybe that's your real debt to society. A-and the best way to serve that debt is to help us in this fight – training these girls, battling the big bads."
"So I'm free and clear? New slate?"
"Yeah, and I'll be honest again. Giles is concerned you'll use this opportunity and run. You could, you know? Take off without looking back."
"Yeah, I could," Faith told her with a nod. "But that's not gonna happen."
"I don't think it will, either. That's why I'm here now. And that's why we're going," Willow added, tossing her head toward the exit.
She stood up and opened the door. As promised, the detective was waiting outside.
"I think we're all set, Detective," she said, handing him the folder. "If you would be so kind as to finish processing Faith, we'd like to be on our way."
"Of course, Ms. Williams," he said. "I'll send the matron back and Faith can get changed and meet you in the lobby."
"Good enough," she told him and turned back to Faith. "Go get ready. I'll meet you outside in about 10 minutes."
Cut to:
Ext.
Lucas County Jail – Toledo – A short time later
Faith had pushed her way through the glass doors of the county jail and begun to walk down the path toward the parking lot when she spotted Willow.
"Here," Willow said, tossing a pack of cigarettes to her. "I picked them up for you at the liquor store down the road."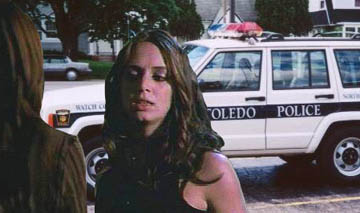 "Thanks, Will," Faith said, ripping open the pack. "You're a lifesaver. In more ways than one."
"Yeah, a lifesaver giving you a pack of smokes," Willow began. "Irony is kinda ironic that way." She grinned.
"You know," Faith began, as they started to walk, "when you managed to locate and make off with the Council's funds, I was mildly impressed. But this takes the cake. Was it magic or just hacker stuff?"
Willow shrugged and smiled. "A little of both," she answered. "I have many skills," Willow said. "Besides, I like having you around, Faith." Willow paused and snorted. "Remember what you said years ago – that you still would have dropped out of high school but with friends like us you'd feel kinda bad about it?"
Faith chuckled. "Yeah, I remember. I meant it, too."
"Think it's possible after all these years? Can we be friends?"
Faith stopped and paused to look at the redhead as a slow grin crept to her face. "Stranger things have happened. And I can tell you one thing, though."
"What's that?" Willow asked.
"I'm glad I didn't kill you when I had the chance," Faith smirked.
"That makes two of us," Willow joined, laughing. "I think the world needs us for a bit." Willow paused then nodded to the parking lot. "And speaking of needing. I think someone else who needs you is very eager to see you."
"What?"
Faith turned to the lot where Willow was pointing. A smile lit up her face when she saw Robin leaning against the bumper of the council's Jeep. Willow chuckled to herself as Faith took off, dropping the cigarette, and launched herself into Robin's arms.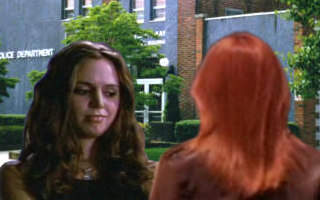 Fade In:
Int.
Watchers Council – Library – Late Afternoon
Willow entered the library and found Giles lovingly unpacking his books, dusting them off and placing them on the newly installed shelves.
"Willow!" he said, glancing up from his task. "Everything go alright?"
"Fine," she reported. "No problems. Faith and Robin are coming back on the bike. I think they may have made an unscheduled stop." Willow smirked at Giles's obvious discomfort.
"You know Giles," she teased. "You really should stop wearing contacts altogether. I can feel your need to polish your glasses all the way over here."
Giles simply glared at her and picked up another book. "Andrew has made some progress in your absence. He came rushing in here a short time ago ranting on about a 'monster cam' – whatever that means. I've got a headache and couldn't even begin to translate his techno-babble. You speak the same language – I'm sure you can figure out what he's excited about."
"No problem," she agreed. "Can I make you an herbal headache remedy I found in Tara's family spellbook? I tried it last week and it worked better than aspirin."
Giles smiled softly. "Thank you, Willow, that would be lovely. A-and I'm glad to see you're expanding your range of knowledge into natural, rather than mystical cures."
"Well, there are a lot of mystical healing spells," she said. "Some of them are more 'natural' than others. Some are too natural, if you know what I mean," she blushed. "Not sure I'm ready for anything so intimate right now, but I'm getting there."
"Yes," Giles said. "I understand, but that's certainly part of your responsibilities as a Wiccan priestess. You have a particular spell in mind?"
"Just exploring options, at this point," she confessed with a worried look on her face. "I'll go see Andrew."
Willow turned and left the room, and Giles watched her leave. A thoughtful expression crossed his face before he returned to his task.
Cut to:
Int.
Watchers Council – Computer Room – Moments later
Andrew turned around at the sound of Willow entering the room. "Oh, Willow," he said. "I'm glad you're here. I need to make sure the girls have supper started."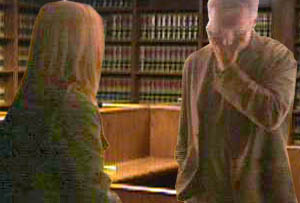 "Sorry to keep you then," she took the seat at her computer terminal that Andrew hastily vacated. "Giles said you found something?"
"Yes!" Andrew said, shifting about on both feet in his excitement. "Did you know Lake Erie has its own Loch Ness monster? She's called 'South Bay Bessie'."
Willow looked surprised, but then smiled wryly. "Well, we are on a Hellmouth. What's the story?"
"I bookmarked the sites I found for you," he pointed.
Willow squinted at the screen and clicked her mouse at the new folder and chose the first link on the list.
"Three humps, looks like a sea serpent, reports up to 50 feet in length." Willow scanned the webpage. "Wow, she ain't small."
"Check out the monster cam!" Andrew said and Willow clicked another link.
"Whoa!" Willow said. "Looks like a view from our window."
"Just about," he said.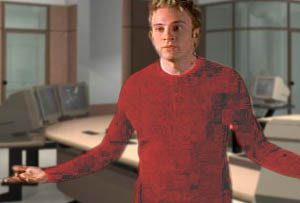 "Well, it could be just another myth," she speculated. "I'll gather more data and we can decide on an action plan. However, if this is some kind of demon fish, I'd like you to be a part of the recon team."
"Me!" Andrew squeaked.
"Yes, you Mr. Demon-summoner person," Willow said. "You're not only here to cook and clean for us."
"Well, okay," Andrew reluctantly agreed. "But only if you're there."
"Yes I will be but, well…go cook and clean first," Willow said, nodding outside the door. "The girls will need to head out soon."
Andrew left the room and Willow returned back to the computer. A moment later, Faith entered and took the chair next to Willow's, giving it a little joyful spin.
"Welcome home," Willow said, looking at her from the corner of her eye, part of her attention still on the computer. "Didn't expect to see you so soon."
Faith dropped her swinging booted feet to the ground, instantly stopping her twirling motion. "Wow! It really is home, ain't it?"
Willow smiled at her, finally turning from the computer. "Might not be much, but it's whatever we'll make of it."
"Yeah," Faith said. "Sorry about not getting to Detroit. Robin said there was something brewing here, so we'll get to her later this week. He's calling her now. What's up?"
Willow nodded at the computer. "Something out there is snacking on the locals. There's always been disappearances in the Great Lakes, but the incidents around here have seemed to increase lately."
"Something drawn to the Hellmouth?" Faith asked.
"Could be," Willow admitted. "Could also be a series of coincidences. as Giles would say, or it could be something else. Andrew found a local lake serpent legend, but since the first sighting of it in the early 1800s, there have been no reports of it eating anything. However, there have been reports this last month or so of people being attacked by something big. A family of swimmers even went to the ER, but were quickly released."
"Yuck," Faith grimaced. "Got a plan? Kinda hard to slay something underwater, ya know?"
"Right," Willow said. "I'll talk it over with everyone during supper, but I think it's time we took a little fishing trip of our own tomorrow. You stay in tonight, okay? Kennedy can coordinate the patrols."
"Why?" Faith asked. "I can handle it."
"I'm sure you could, but I'm also sure you didn't sleep much last night," Willow replied. "Take a break. Stay home. Get some rest. Or in your case, just get some."
Faith laughed and spun around in the chair again. "Whatever you say, Will. You're the Watcher."
Willow grinned. "Right and don't you forget it."
Fade out
Fade In:
Int.
Watchers Council – Dining Room – Early evening
As soon as everyone was finished eating and the slayers headed back to the dorm to get ready for patrol, Willow stood up at the main table, interrupting everyone's conversation.
"Rona, Vi, you two will each lead a group tonight," she said, glancing at her notes. "Kennedy's going to coordinate; she'll be patrolling in the Jeep with the two new girls, getting them familiar with the city. Make sure you keep in touch with her via walkie-talkie."
Rona and Vi both nodded and Willow continued. "I called Mrs. Tapman at the marina and she has a boat we can rent for the day. She'll expect us early in the morning."
"A boat?" Kennedy asked. "What for?"
"See if we can find out what's going on," Willow said, looking at her girlfriend with a confused expression on her face. "Andrew, bring your pan flute thingy so if it is a demon you can try calling it."
"Okay," Andrew said, and wiggled in his seat with excitement at being part of the action.
"How big a boat?" Kennedy asked.
Willow shrugged. "Big enough for you, me and the core crew."
"That doesn't sound very big," Kennedy mumbled, almost to herself.
"Big enough," Willow said. "Sweetie? Is there a problem?"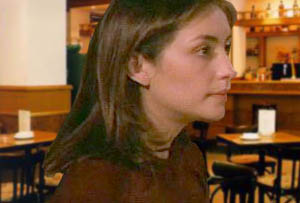 "What?" Kennedy said, looking guilty and a little nervous. "No, of course not. Just want to make sure everyone's safe. Just doing my job, that's all."
Faith leaned back in her chair. "Take a chill pill, Brat," she said in a teasing tone. "After we kill this thing, I'll race ya back to shore. We'll show these Watcher types we don't need some stinking boat to do our jobs, right?"
Kennedy gave her a ghost of a smile. "Sure, Faith. Anytime, anyplace."
"Good," Willow said, wrapping up the meeting. "Then safe patrol to the slayers and everyone else enjoy your evening. We'll head out to the marina at dawn."
Kennedy hung back in her seat for a moment after everyone else had departed. "Oh boy," she whispered, then finally picked herself up and headed for the garage to start her patrol.
End of Act Two