act 6

Fade In:
Int.
Watchers Council – Lobby Control Center – Continuous
Giles walked over to get a better look at the papers in front of Andrew. "How do you know anything –?"
"Hello?" Andrew stopped him before he could say more. "Former evil genius who spent all his time hanging out with other evil geniuses, thank you very much. I've seen these types of layouts before. Sure, ours were better and easier to understand, but it's the same principles. Just…using magic, instead." Andrew secured the headpiece and adjusted the microphone. "Willow, can you hear me?" he asked, disregarding Giles.
Shocked, Giles and Rowena looked at each other.
Cut To:
Int.
The Machine – Same Time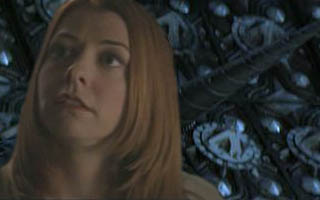 "Andrew?" Willow asked in disbelief. She listened for a short moment. "You want me to do what?!" Willow gasped, pausing in her effort to clamber up the sloped side of the pit.
"Find the device's magnetic axis," Andrew's voice repeated, "the north-south axis… I think the frame beneath the central core should have a cross-beam aligned to it, can you see that?"
Willow stared down incredulously, trying to make out the shapes in the gloom beneath the sphere. The glimmer of a glow from the sphere itself let her see two huge metal beams in a cross-shape, holding its central axle.
"I see the – agh!" she gasped as the rings picked up speed a notch. "I see the cross-beams, which one's north?"
"The tunnel we came down is north," Marsha reported, slicing the legs out from beneath a demon facing her and bringing her sword down into its face as it fell. "Slayer senses," she shrugged, sparing Xander a glance over her shoulder before turning back to her foes.
"This way, Will," Xander called, "north is over here! Andrew, what does she need to do?"
"Can you see a-a spike or a prong of some kind, maybe a foot long, about half-way up the wall along that axis?" Andrew's voice was quick and tense, but he didn't falter.
"I see it," Willow said through clenched teeth.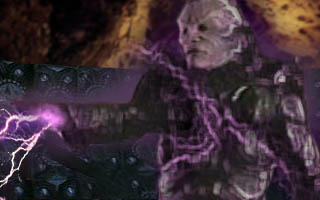 "Get to it, turn it ninety degrees clockwise. Willow? Can you do that?"
"Not much choice," she grumbled, staggering along the wall as far as the slope allowed, before falling to her hands and knees and clambering up further. She reached the spire, an oily black obelisk of metal-bound stone, held it in both hands, and wrenched it sideways, almost crying with relief as it began to slowly turn in her grip.
The Engineer snarled down at Willow as she locked the spire into its new position, then began to clamber across the pit's wall towards another protruding structure.
"What's the matter, human?" he rumbled, "Too cowardly to fight. Too afraid of your own magic…"
He flexed his hands, and to the accompaniment of a resonant bass chord, a jagged star of darkness swirled into being in front of him. Willow looked up, fearful, then gave a defiant scowl and set her eyes back on the machinery in front of her.
"No escape for you," the Engineer proclaimed. As Willow reached for her next goal, the darkness shot towards her, encasing her in lightning made from shadow. She screamed in agony, her limbs collapsed beneath her, and she tumbled over and over down the sloped pit wall until a jutting spike caught her painfully in the back, breaking her fall.
"Willow?!" Andrew's panicked voice sounded in her ear. "Willow are you – what's going on?"
"He's killing her!" Xander shouted from his position above the pit.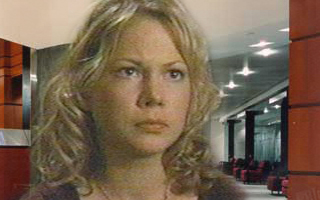 Cut To:
Int.
Watchers Council – Lobby Control Center – Moments Later
"That's it!" Rowena said, ripping the communicator from her head and starting toward the basement entrance.
"Where do you think you're going?" Giles asked.
"Where do you think?" she countered, not bothering to turn around.
Giles raced to catch up to her and spun her around, keeping a firm grasp on her arm. "You have to stay here. I can't afford to lose both of you."
"And I can't afford to lose her. Not being there cost me the life of one person I cared about, and I'm not going to make the same mistake twice," Rowena quickly shot back. She pulled her arm out of Giles grip and continued on.
"You need me?" Jeff asked, making Giles turn sharply.
When he looked back, Rowena was now out of sight. With a sigh, Giles motioned Jeff to follow him back to the control panel.
Cut To:
Int.
The Machine – Same Time
"Andrew," Willow groaned, forcing herself to her hands and knees, "keep talking…the pyramid structure…" She clambered painfully back up the pit wall, dabbing with her sleeve at a bleeding cut on her forehead, where she had struck a protruding edge in her tumble.
"Willow?" Andrew repeated desperately.
"What do I do!?!" she shouted, grimacing at the pain.
"Um, um-the, uh, the pyramid's tip should open, look for a seam about half-way down and push it upwards. The, the-inside it, three things working like capacitors, I don't know what they'll look like, but –"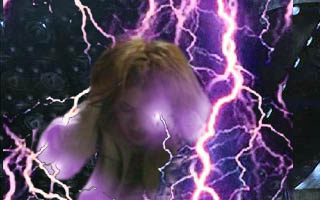 "I'll figure it out," Willow muttered, ignoring the ominous bass rumbling from behind her as the Engineer formed another star of shadows. She flung herself the last few feet and clasped her hands around the base of the squat pyramid jutting from the wall, clenching her teeth as the bass reached a crescendo and another burst of darkness enveloped her.
"Nnngh!" she growled, her knuckles turning white with the effort of holding on in spite of the pain. One hand slipped, but the other held, allowing her to haul herself up once the searing agony had subsided.
"Weak," the Engineer intoned. "So weak, little human. Dying like an animal."
"Andrew," Willow grimaced, pushing hard against the pyramid's tip until it slid upwards and clattered away.
"Do you see the capacitors?" he asked, his voice high and tense.
"I see…" Willow recoiled from looking down into the hollow structure, "Ugh… three things sort of like hearts, covered in slime and yuck –"
"Disconnect them!" Andrew insisted.
"How?"
"Just… yank them out! Rip them out of their sockets."
"Did I mention the yuck?" Willow muttered grimly, wrinkling her nose as she reached into the hollow and took hold of one of the pulsing organs.
Cut To:
Int.
Underground Cavern – Same Time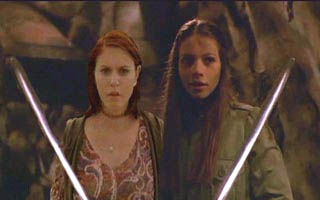 Rowena raced out of the tunnel entrance, ignoring whatever injuries she had, straight into a massive melee between humans and demons. She stared in shock for a moment, then gathered herself and looked around.
"Rowena!" Skye called from one side of the cavern, where the demons had been driven back. The dense scattering of demon bodies, in some cases just body parts, surrounding the Council forces attested to the ferocity of the fighting that had gained the foothold.
"Where's Willow?" she yelled, skidding over the uneven floor, made treacherous by pools of blood and ichor. She stumbled onto her hands and knees and looked down at the dead slayer she had tripped on. An anguished expression crossed her face and her hand tightened painfully around the stock of her crossbow.
"Over here!" Dawn called from further along the cavern wall. She blocked a blow from a demon, allowing a slayer time to slash its back open, then backed off and jogged a few feet towards Rowena, with Skye arriving at the same time. The three flinched as the cavern was rocked by another eruption of darkness from the machine's pit.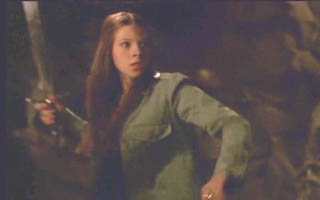 "Xander and the others are holding out over there," Dawn explained quickly. She tried to continue but she had to pause and strike down an approaching creature. Wasting no time, she turned back to Rowena and said, "We're cut off, the demons are holding most of the slayers back."
"How many – what're our casualties?" Rowena asked.
"Not good," Skye said, her voice exhausted, "but probably could be worse… we've got some of the wounded to cover. They'll make it, if we don't get overrun."
"Xander!" Rowena said loudly into her earpiece microphone. "Xander, Robin? We're coming through, look out for us from the east wall."
"Ro?! What're –" Xander's voice began.
"Gotcha, we'll keep their attention off you," Marsha cut in.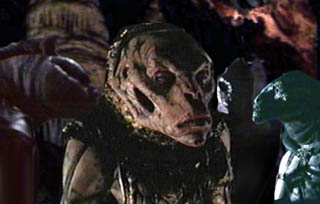 Cut To:
Int.
Underground Cavern – Short Distance Away – Same Time
Larmin swung his axe, missing a slayer by inches as she ducked back, but as he spun his weapon the jagged flail on its hilt caught her in the midsection and tossed her away in a spray of blood. He paused for a moment, staring across the battleground, and his dark eyes fixed on Rowena."Takk Guard," he rumbled, "with me."
He began to shove his way through the press of bodies, ignoring the startled growls of lesser demons as they were pushed aside. Behind him, a phalanx of muscular demons in heavy plate armor followed, each carrying a savage-looking pole-axe in gauntleted hands.
Cut To:
Int.
Underground Cavern – Short Distance Away – Same Time
Buffy saw the formation of hulking demons moving steadily across the cavern and quickly surveyed her slayers, seeing who was able to help.
"Eva, Marie, Heli!" she shouted. "The guys in armor! Let's go!"
Without sparing a backward glance, she lunged toward the demons ahead of her, burying her two hand-axes in two of their heads, then using that leverage to propel herself forward and up, flipping over the heads of the startled second rank. The slayers she had picked out fought their way clear of their current opponents and plunged into the gap she had created in the demon lines.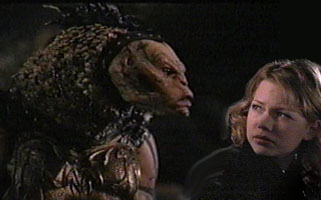 Cut To:
Int.
Underground Cavern – Short Distance Away – Same Time
Rowena raised her crossbow to shoot the demon ahead of her, but a bolt from Skye's crossbow felled it first. As it collapsed, though, she saw Larmin striding towards her like a locomotive, raising his axe.
She fired three bolts from her bow as he neared, one into his shoulder, two in his chest, each punching through his thick hide and drawing out a well of thick black blood. The massive demon never broke his stride, though, and the first swipe of his axe smashed her crossbow in half, flinging the pieces out of her hands. She had to leap backwards to avoid the following swing of the flail. She landed awkwardly on her back, then slipped in a pile of inhuman viscera as she desperately tried to get to her feet, with Larmin striding closer all the while.
Cut To:
Int.
Underground Cavern – Short Distance Away – Same Time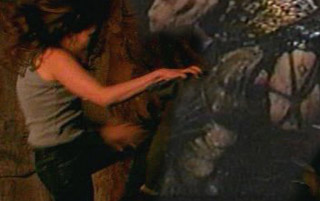 The front half of Rowena's crossbow smashed over the head of a serpentine demon facing Kennedy, distracting it for the split-second it took her to slice open its belly, then decapitate it. She peered through the fighting bodies in confusion and spotted Rowena falling and immediately grabbing her already-injured side. Larmin stalked closer to the watcher.
Kennedy's sword-arm went back instinctively to throw her weapon at the demon, but then, as she watched Rowena scramble backwards futilely, and Larmin raise his axe, she hesitated, just for a second, and bit her lip. He was only moments away from killing her.
A thunderous blast of darkness from the machine pit staggered everyone in the cavern, and through the din Kennedy heard Willow's agonized scream. Quickly, she looked back to Rowena crawling across the floor for her life. Her eyes shifted again to Willow and then Rowena once more.
Kennedy took one step forward and threw her sword overarm. It spun through the air, and, just as Larmin was about to bring his weapon down on Rowena, it sliced cleanly through both his wrists. He staggered as his axe clattered to the ground behind him, almost overbalancing onto Rowena, who was staring up at him in shock. With an enraged, inarticulate bellow, he turned to see Kennedy vaulting towards him.
"You'll pay for that, bitch!" he roared. He snarled, then looked at the bleeding stumps of his wrists, his brow furrowing in confusion. He looked back up, uncertain, as Kennedy scooped up his fallen axe.
"Bitc–" he began to say, as she braced herself and swung the massive weapon. The axe blade tore through his thick neck, spraying gore from the wound. The flail followed, its heavy spiked steel ball smashing against his head, tearing it from the remains of his neck and sending it flying away.
"That's Miss Bitch to you," Kennedy snarled as Larmin's headless body toppled over backwards. She looked down and quickly extended a hand to Rowena, helping her back to her feet. The spray of gore from Larmin's wound had caught Rowena full on, soaking her in black demon viscera.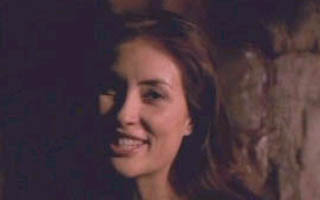 "Thanks," she said breathlessly.
"Anytime," Kennedy smiled. "You know…you smell really bad."
Rowena stared, then let out a short bark of laughter.
"Here," Kennedy added. She picked up her fallen sword and handed it to Rowena.
"What about you?" she asked.
"I kind of like this thing," Kennedy replied with a feral grin, hefting the massive axe.
Cut To:
Int.
Underground Tunnel – Same Time
Demons began to rush through the passageway and up to the council main floor. As they moved through the basement and into the stockade, one of them noticed Bonnie pleading for help through the bars. He smashed the lock open with his sword and pulled the door open. Unable to merge into the tide of charging demons, Bonnie kept the door open and waited for them to pass.
Cut To:
Int.
The Machine – Same Time
"Enough pain," the Engineer intoned, "or shall I give you more?"
"Go to hell," Willow muttered, wiping away the blood trickling from her nose and trying to force the cramping spasms from her fingers. "Andrew?"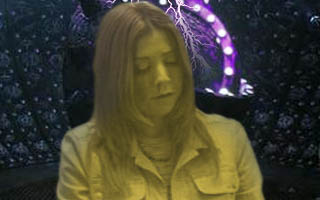 "Is the panel open?" his voice asked.
"Yeah," she replied, turning to spit out a mouthful of blood and bile. In front of her, one of the irregular panels making up the pit's walls was hinged back at its edges, allowing access to the strange collection of wires, stone blocks and organic shapes within, all flooded in a bubbling, viscous liquid. Reluctantly, she reached in, submerging her hands.
"What are you doing?" the Engineer rumbled.
"Didn't you get that 'go to hell' comment?" Willow snarled to herself.
"Do you see a thick cable?" Andrew asked. "Running left to right, connected to a resistor in the middle?"
"There's a stone block in the middle," Willow said. "There's… I see two intestine-y sort of things, one across, one vertical, they're both sort of melded with the stone thing. Ow!"
"Willow? Are you okay?" Andrew's voice grew shrill.
"There's insect things swimming in this – ow! They're biting! Little bast – ow!"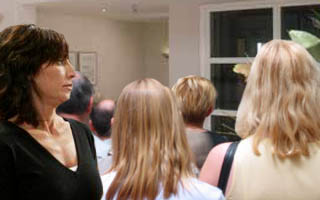 "Enough of this," the Engineer sneered. "Now, human, you will fight or you will die."
Cut To:
Int.
Watchers Council – Lobby Control Center – Moments Later
The demons charged into the lobby heading in all directions. Watchers-in-training and junior slayers stood shoulder-to-shoulder ready for the attack. Giles vaulted the control area, taking a sword with him, trying to defend the area where Andrew looked at the map.
Cut To:
Int.
The Machine – Same Time
"Which one do I pull, Andrew?" Willow asked. "Vertical or horizontal?"
"Give me a second," she heard him answer. Next came the noise of screaming and fighting.
"Are you okay?" Willow asked.
"They're getting through, but…I'm here," he told her.
Cut To:
Int.
Watchers Council – Lobby Control Center – Same Time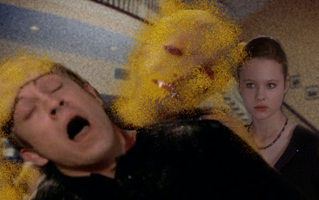 Andrew continued to focus on the map and didn't notice the vampire that had worked its way around the side of the control panel. The demon pulled him from his seat and brought him face to face.
"You're history," the vampire sneered, and descended on Andrew's neck. The young man screamed out in fear and pain as the fangs broke his skin. Giles sliced down a demon and looked over, racing to Andrew's side.
Suddenly the vampire's weight was gone and dust scattered all around him. Andrew blinked in confusion to see Tracey standing there holding a stake.
"And you're dust," she said to the pile on the floor.
"Uh, thanks," he smiled.
"Don't mention it," she replied.
Andrew grinned at her a moment longer and then raced back to his seat, putting on the headset again. "Willow?" he called out.
"Which one?" he heard her ask.
Andrew's finger bounced back and forth on the blueprint. "Eeney, meanie, minie, moe," he muttered. "Uh, the horizontal one," he replied.
Cut To:
Int.
The Machine – Same Time
Willow paused with an incredulous look on her face. "Did you just eeney, meanie, mini, moe with my life?!" she asked. "Is this going to work or not, Andrew?"
Cut To:
Int.
Watchers Council – Lobby Control Center – Moments Later
Andrew rolled his eyes. "I can't say for sure because I don't build inter-dimensional portal annihilators as a hobby, well, not anymore. I'm working on instinct here too, ya know," he quipped. "Try the horizontal."
"Any idea what will happen?"
"One of two things probably. You'll kill the machine or you'll open the hell dimension and destroy the world as we know it."
Cut To:
Int.
The Machine – Same Time
"Oh brother," she sighed, rubbing her forehead briefly. "Well, gang, it's been fun knowing ya."
Holding her breath, Willow yanked the horizontal connector.
Cut To:
Int.
Underground Cavern – Same Time
"What the f –" Faith began to say, as the ground beneath her feet started to shake. At that point the crescendo of sound from within the machine pit grew to an unbearable level, causing everyone, slayers and demons alike, to clasp their hands over their ears to try to block out the terrible din. They staggered as a wave of pressure converged on the Engineer, the sudden rush sending many in both armies toppling as their legs were swept out from beneath them.
Cut To:
Int.
The Machine – Same time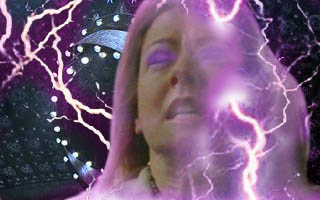 In the pit, Willow looked over her shoulder, seeing the Engineer only as a shadow within the maelstrom of energy he had gathered.
"Andrew! Talk to me!" she called. "What the hell did I do?"
The Engineer released the gathered energy, which hurled in a solid mass towards Willow, breaking over her. She screamed again and again as the power coursed through her, the searing pain blinding her to anything else.
The shockwave of the Engineer's strike blasted out of the pit.
"Everybody stay down!" Faith screamed.
Xander and Rowena, standing closest to the edge, threw themselves to the ground to avoid being hit full-on. Even so, the secondary waves spreading from the main blast tossed them backwards, sliding across the cavern floor among fallen humans and demons.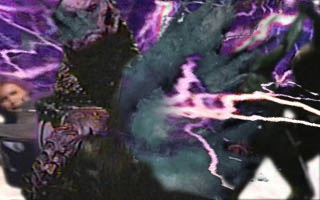 Some of Larmin's guards, who had been close to the pit and had not ducked in time, were caught by the floor force of the wave of magic. They erupted in showers of blood and gore as their skeletons exploded out of them, the raw magic tearing them apart from within, covering those nearby with shrapnel hails of splintered bone. Cracks formed in the cavern's ceiling, sending showers of rock tumbling down onto the combatants below.
Cut To:
Int.
Watchers Council – Lobby Control Center – Same Time
Andrew ducked as the floor shook and light bulbs burst in their fittings.
"Bloody hell!" he heard Giles yell from the middle of the fighting in the lobby.
"Willow!" he shouted above the din of the earthquake. "Willow, the vertical cable! Break the vertical one too!"
Cut To:
Int.
The Machine – Same Time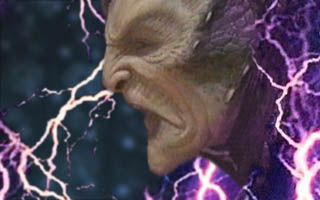 "Goddess," Willow sobbed, her body wracked with pain as the darkness continued to tear at her.
"Willow!" Andrew called again. Scrabbling for a handhold, Willow hauled herself painfully up to the opened panel and plunged her arms in. Ignoring the searing agony flowing over her, the suddenly-boiling liquid her hands were immersed in, the pain of the insects within it nipping at her unprotected skin.
"Are you sure?" she gasped, wrapping her hands tightly around the pulsing tube of flesh emerging from the stone block.
"No!" Andrew wailed. "Now do it!"
Another mass of energy began to build between the Engineer's hands. Ignoring the din, Willow tightened her grip, closed her eyes, and heaved with all her remaining strength.
The intestine-like tube stretched, strained, then snapped violently, spewing milky-red liquid over Willow. She overbalanced and fell backwards, tumbling head over heels down the side of the pit, finally slamming painfully into the lower walkway, dazed and bruised.
She forced her eyes open, hearing a roar above her. The energy gathered between the Engineer's hands was flowing down, into the sphere. He roared again, drawing more power to himself, and for a moment an equilibrium was reached – the energy taut between him and the machine, but moving in neither direction.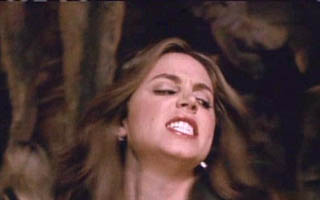 Cut To:
Int.
Underground Cavern – Same Time
Faith delivered a sweeping kick that knocked one of Larmin's guards off his feet, then cracked his helmet open with a powerful downward axe-blow, smashing his face to a pulp. She looked up as the walls of the cavern rippled and reddened.
Cut To:
Int.
Underground Cavern – Short Distance Away – Same Time
Xander grabbed a sword from the ground and prepared to defend himself, then stared around in shock as the entire cavern began to fade from view. Surrounding the struggling slayers and demons, in place of underground rock, a hellish landscape shimmered into being. Hundreds – thousands, tens of thousands – of demons were advancing towards them, while above, in a sky dotted with scarlet falling stars, winged creatures circled and began to dive. Xander closed his eyes shut tight and opened them again, only to be faced with the same scene. Time hadn't slipped. He was still in the present.
"Oh God," Xander muttered to himself. "He's gonna open it himself."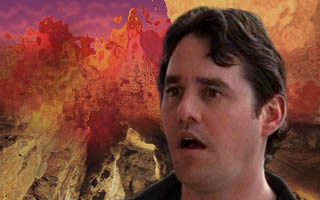 Black Out
End of Act Six