act 3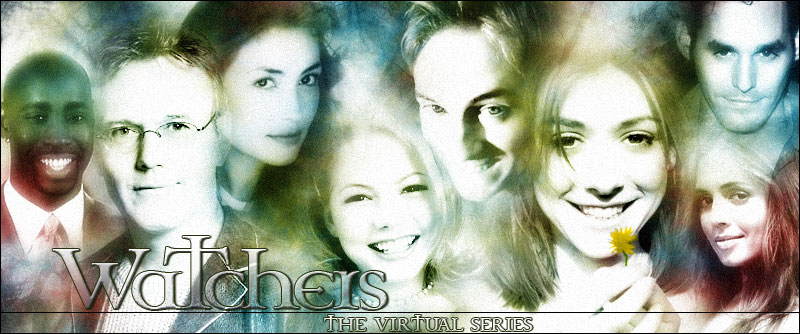 Fade In:
Int.
Watchers Council – Kennedy's Apartment – Early Morning
The sun filtered in through the partially opened curtains, casting a steady stream of morning sunshine over the sleeping slayer's face. She started to stir, then let out a grunt of protest before picking up her pillow and placing it over her head.
Cut To:
Int.
Watchers Council – Rowena's Apartment – Same Time
Rowena sat at her kitchen table with a new set of books in front of her. She lifted her coffee cup and took a slow sip, her eyes still trained on the pages. She flipped to the next page and studied it intently for a long moment before slowly placing her cup back on the table.
Her eyes never left the page as she reached over and picked up her phone.
Cut To:
Int.
Watchers Council – Kennedy's Apartment – Same Time
The sound of the ringing phone caused Kennedy to open her eyes and peer out from under her pillow. "No," she whined as she pulled the pillow tighter around her head, trying to drown out the sound. Still the sound of the next ring, combined with her slayer hearing, made her wince.
"Okay. I'm up," she moaned, as she reached over and grabbed the phone, placing it to her ear with a huff. "What?"
Cut To:
Int.
Watchers Council – Rowena's Apartment – Same Time
"I always forget, slayers aren't morning people." Rowena smiled into the receiver. "Seriously, I know it's early, and I know you were out searching all night, but you did tell me to call when I found anything new." She glanced back down at the pages. "Ever see Law and Order?"
Cut To:
Int.
Abandoned Building – Main Room – Same Time
The door to the room where Kadin slept swung open with a loud crash as the overhead lights were suddenly turned on. Kadin jolted awake and turned quickly to look over her shoulder. She squinted her eyes against the harsh light as she tried to focus on the approaching figure. When she saw who it was, she grunted and dropped her head back to the pillow, covering her eyes with her arm.
"Rise and shine." Elana smiled as she walked over.
"G'way," the hunter mumbled over the sound of the door being locked.
"Now, is that any way to talk to the woman who's about to save your life?" Elana walked to the table and placed her briefcase on top of it.
Kadin lifted her head to look back at the lawyer over her shoulder. "You sound pretty confident." The hunter rolled over and placed her feet on the floor. She ran a hand over her eyes before finally meeting the other woman's gaze. "What makes you think you can pull this off?"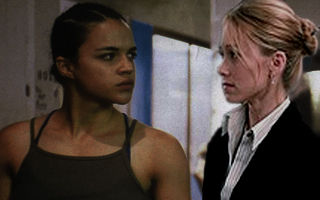 Elana took her seat at the table and adjusted her glasses before opening her briefcase. She pulled out a file and placed it on the table in front of her.
"I'm offended," she teased. "You have seriously underestimated my abilities."
Kadin shook her head. "It's not your abilities I'm worried about." She stood up groggily and walked over to pull out the other chair. "You wouldn't happen to have some herbal tea in that thing, would you?" she asked, motioning towards the briefcase.
Elana watched as the other woman took a seat, then slowly shook her head. "Sorry, but no." She waited until the hunter settled into her seat. "What did you mean earlier? What else is there to worry about?"
Kadin looked at her with a light smile. "You're kidding, right?" Elana just stared back at her. "Guess not. You know, for a brainy type, you ain't too bright."
Elana raised her perfectly sculpted brow. "Excuse me?"
Kadin shook her head. "That's not what I meant. I ain't callin' you stupid or anything. I just meant that you don't seem to understand what we're up against here."
The lawyer feigned revelation. "Oh, if by 'what we're up against here,' you mean an ancient clan of werewolves that kidnaps the descendant of the most famous monster hunter – who, by the way, no one even knew was alive – and then forces her to stand trial for killing its members as part of its ritual vengeance kick, putting said hunter in the precarious situation of facing death by claw and fang, then no, I guess I don't have a very good understanding."
"Uh, right," Kadin nodded, a little surprised at the rant.
"Look," Elana said, pulling off her glasses and dropping them to the table. "I know to you this seems like a guilty-until-proven-innocent kind of deal, and quite frankly, I can't really say that I disagree. And I know that even to the strongest of hearts, that can be frightening." She saw the sudden look of defensiveness in the hunter's eyes. She reached over and placed a gentle hand over Kadin's. "But I promise you, I am going to do everything in my power to get you out of this. You just have to trust me."
Kadin slowly dropped her eyes to the woman's hand, covering her own, then slowly looked back up at her face. In a soft whisper she replied, "I do."
Cut To:
Int.
Abandoned Building – Top Floor – Same Time
There was a large round table in the middle of the room. Five black chairs sat around the edges. The room was bare of anything else.
The door opened quietly, and four figures in long black cloaks slowly filed in, each taking a seat in one of the chairs. A fifth figure, more elaborately robed than the others, entered, closed the door and took his seat.
Each member dropped their hoods on their cloaks to reveal their faces. Kael, two other older men and two older women sat around the table.
"I believe we are all aware why this meeting was called," Kael said. "We have recently passed judgment on the monster hunter known as Kadin Van Helsing, at which time it was decided that she would stand trial for the crimes she has committed against our brethren."
"Crimes?" one of the women interrupted. "Don't you mean murders?"
Kael nodded solemnly. "Yes, Isa. We are all sympathetic to your circumstances, but we must remember that we are here to exact justice, not vengeance."
"Tell that to my granddaughter," the woman replied icily.
"She's right, Kael," said another of the elders. "How can we ignore what this woman has done to us? To our families?"
Kael lifted a hand, and the room fell silent. "I understand your concerns, and I promise you, this trial will end in a fair and equal judgment."
The members looked around at each other as the smile grew on Kael's face.
Cut To:
Int.
Watchers Council – Rowena's Apartment – Moments Later
"So there's going to be a real trial…with lawyers and a jury and a judge?" Kennedy asked from her seat at Rowena's kitchen table.
"Yes," Rowena said excitedly.
"And why is that wake-worthy good news?" the slayer inquired.
"Because it gives us more time," the watcher explained. "Apparently, the Knights pride themselves on their fairness. This won't be some kind of summary judgment with a quick execution."
"But it's still not legal, is it?" Kennedy asked with a frown.
Rowena shook her head as she lifted her coffee to take a sip. "I'm sure our laws don't exactly apply to a centuries-old clan of vengeance-seeking werewolves."
"Good point," Kennedy said, closing the book. "So what do we do? I mean, there's gotta be some way to stop these guys. 'Cause we both know that, no matter how fair the legal process might be, if they take Kadin to trial over her past…"
"I know," Rowena said. "Chances are, she'll never make it out alive…But that's why I'm calling in some legal help."
Cut To:
Int.
Watchers Council – Slayer Gym – Moments Later
Willow sat on a bench along the wall of the Slayer Gym, watching as Faith explained to a young slayer the proper methods for decapitating a demon.
The sudden trill of her cell phone nearly caused her to jump out of her skin.
"Goddess," she breathed, before reaching over to pick it up from the bench. She looked down at the screen and saw Rowena's name on the caller ID. She hesitated for a moment before pressing the button to answer.
"Yeah," she said flatly.
Cut To:
Int.
Watchers Council – Rowena's Apartment – Same Time
"Hey Will," the head watcher replied in a nervous voice. "Umm, I hope you're not busy or anything. I, uh, I needed to ask a favor. A spell kind of favor." Rowena cringed and pulled the phone away from her ear, as if expecting a tirade. When it wasn't forthcoming, she put the phone back to her head. "And just so you know there aren't…conflicts…involved this time," she added nervously.
Cut To:
Int.
Watchers Council – Slayer Gym – Same Time
Willow scowled as she held the phone.
"I'm guessing this has something to do with a certain monster hunter and the fact that you need help finding her?" Willow said coldly. "Faith sorta filled me in," she explained.
Cut To:
Int.
Watchers Council – Rowena's Apartment – Same Time
"Yeah," the blonde replied hesitantly. "I mean, the suspension is officially over now a-and, you know, i-if it's not too much trouble…"
Kennedy looked over at her and smiled sadly. Rowena returned sentiment before turning back to her dead air-filled conversation.
"I'd ask Dawn or Jeff," Rowena continued, "but locator spells are really your forte. You think you can get a lock on her? We need it kinda quick."
Cut To:
Int.
Watchers Council – Slayer Gym – Same Time
"You know the drill," Willow said with a sigh of resignation, as she watched Faith slowly approaching. "I'll need something personal, but it shouldn't be a problem."
Cut To:
Int.
Watchers Council – Rowena's Apartment – Same Time
"Thanks Will," Rowena said. "Meet me in the library in ten?" She listened once more and then hung up. She looked at Kennedy with a nervous expression.
"Still getting the cold shoulder?" the slayer asked cautiously.
Rowena nodded sadly. "But that's not important right now. Do you have anything personal of Kadin's, by chance? A book, an arrow, anything?"
Kennedy paused a moment in thought. "Yeah, I've got something that might work."
"Good, good," Rowena nodded. "Get it over to Will while I make another call."
"Will do," Kennedy replied. As she made her way out the door, Rowena picked up her phone again. She dialed and waited a few moments before she said, "Alex Neel, please…Rowena Allister, Watchers Council. Tell her it's an emergency."
Cut To:
Int.
Alex's Office – Moments Later
Alex's intercom went on. "Ms. Neel, Rowena Allister on line three. She says it's an emerge –."
"Thanks Denise," she answered and pushed a button on the phone. "Hello, Rowena. And what do I owe the pleasure of this call?"
Cut To:
Int.
Watchers Council – Rowena's Apartment – Same Time
"We have an associate that might need some legal counsel…something in your area of expertise, actually."
Cut To:
Int.
Alex's Office – Same Time
Alex picked up a folder on her desk and opened it. She scanned it briefly.
"Kadin Van Helsing?" she asked.
Cut To:
Int.
Watchers Council – Rowena's Apartment – Same Time
Rowena wore a confused expression for a moment. "Uh, well, yes actually. But how did you –?"
Cut To:
Int.
Alex's Office – Same Time
"We keep close tabs on all supernatural goings-on in the area. But just know that counsel is already in place to represent her. Her trial should start today."
Cut To:
Int.
Watchers Council – Rowena's Apartment – Same Time
"Okay. Well, do you know where?" Rowena asked.
Cut To:
Int.
Alex's Office – Same Time
Alex paused. "I'm not sure if I'm at liberty to disclose that."
Cut To:
Int.
Watchers Council – Rowena's Apartment – Same Time
"Not at liberty? Look, we're going to find out regardless. Willow is doing a locator spell right now. But what has me more concerned is your reluctance to discuss it."
Cut To:
Int.
Alex's Office – Same Time
Alex licked her lips before replying.
"The truth of the matter, Ms. Allister, is we can't have the Council bursting in there with guns blazing and attempting a breakout."
Cut To:
Int.
Watchers Council – Rowena's Apartment – Same Time
Rowena's expression hardened. "Oh, so it's not Rowena anymore, but Ms. Allister. I see…Look, getting all Dirty Dozen is not my purpose in asking. I'd like someone from the Watchers Council to be there to oversee the trial, to be sure that it truly is a trial and not a witch hunt," she said, before adding in a lower voice, "for lack of a better word."
Cut To:
Int.
Alex's Office – Same Time
"I can assure you this is no witch hunt and Ms. Van Helsing is in the hands of a very capable representative."
Cut To:
Int.
Watchers Council – Rowena's Apartment – Same Time
"Someone from your firm?" Rowena asked.
Cut To:
Int.
Alex's Office – Same Time
"I'm sorry. But again, I'm not at liberty to –"
Cut To:
Int.
Watchers Council – Rowena's Apartment – Same Time
"Right, discuss it," Rowena said in a frustrated tone. "Are you going to give me the location or not?"
Cut To:
Int.
Alex's Office – Same Time
Alex gave a heavy sigh.
Cut To:
Int.
Watchers Council – Library – Same Time
Kennedy lightly knocked on the library door and peeked her head inside to see Willow at a table with a map. She turned toward Kennedy.
"You got something for me?" Willow asked, her voice cold and hollow.
Kennedy nervously entered the room and held the ring out in front of her.
"Kadin, gave me this last year. It's hers. I figured it would work."
"Yes, you're becoming quite the magic expert," Willow remarked as she held her hand out.
Kennedy handed it over, her fingers lingering for a moment when they touched her ex-girlfriend's.
"Will, listen. I didn't do the spell with Rowena to piss you off. Faith wanted it done too. And I could see their point…if Devlin spilled the beans, then it would only cause more headaches."
"So erasing a man's memory is worth avoiding a few more headaches? That doesn't seem like a decent trade-off to me."
Kennedy put her hands in her back pockets and stuck out her chin.
"You don't know what it's like to be out in the field, what the slayers have to deal with night in and night out," she answered, her voice starting to rise slightly. "The last thing we need are slayer wanna-bes following us around, distracting us from our job. That could lead to my patrol getting killed, or some civilian dying because we couldn't get there in time."
"But did you think that maybe there comes a time when we should just stop hiding?" Willow asked. "A person's mind should be their own."
Kennedy started to shake her head and make her way toward the door. "I think Rowena might have had a good point…This wasn't about one person's mind. It's about one particular woman years ago."
When Willow glared in response, Kennedy threw up her hands and started to walk away.
"You too, huh?" Willow called out, making her stop.
Kennedy slowly turned around.
"I'm not gonna fight with you, Will. If you want to stay mad at me forever, hell, go ahead. Just do your job and I'll do mine. I'm going back to Rowena's place to bring her down here."
With that, Kennedy left the room and Willow looked down to see the grip she had on Kadin's ring was now turning her knuckles white.
Cut To:
Int.
Abandoned Building – Main Floor – Later
Kadin looked deep in thought. Her eyes stayed trained on the top of the old table for a long moment. Finally, she lifted them to meet the soft gaze of her lawyer. "Okay. If you think that'll work best, then let's do it."
Elana smiled. "I was hoping you'd say that."
Cut To:
Int.
Watchers Council – Library – Moments Later
Willow sat at the center table. A map of Cleveland was unfolded in front of her, with Kadin's silver ring sitting on top of it. Kennedy, Rowena and Faith stood nearby, waiting, while the witch sat with her eyes closed in concentration. A bright light suddenly flared up on the map.
"There," Willow said, pointing to the spot on the map.
Kennedy looked over her shoulder. "That's only a couple streets over from here. She's been there this whole time?"
Willow nodded. "Seems that way."
"Typical," the slayer grumbled. She reached out and picked up the silver ring from atop the map, placing it in her front pocket. "I know that building. I'll head over and check it out. I'll contact you once I'm in." She turned to leave without waiting for any response.
"Kennedy, wait!" Rowena called after her, causing the slayer to stop just before she reached the door. Kennedy turned to look back. "Just…be careful, and remember what we talked about," the watcher said.
The brunette smiled and nodded before leaving.
Faith looked over at Rowena disbelievingly. "You sure that's such a good idea? Letting her go alone like that?"
Rowena folded her arms resolutely. "Yes."
Without looking at Rowena, Willow gave the illuminated area of the map a small pat to make sure it was extinguished before she started to fold it.
"I guess you don't need me anymore," she said quietly, finally looking at Rowena.
Rowena carefully dropped her arms. "No, I think we're done."
"Fine," Willow answered as she began to leave the room, taking the map with her. "I'll be in the Coven Room if anything changes."
Rowena said nothing and watched Willow's back as she left. Once the priestess was out of earshot, the watcher let out a heavy sigh.
"Damn, I'm sorry Ro," Faith said softly. "I would not want to be in your shoes right now."
"That makes two of us," Rowena answered.
Cut To:
Int.
Abandoned Building – Main Floor – Later
Elana placed her pad back into her briefcase, then stood up and snapped it closed. "Okay. I'll see you back here in about an hour. That's when your trial is scheduled to start."
Kadin nodded. "Okay." She returned Elana's light smile and watched as the lawyer made a quiet exit. Kadin sat motionless for a few moments, listening to the locking of the door, before getting out of the chair and making her way back over to the cot. She plopped down, leaned her head against the wall, and closed her eyes.
Cut To:
Ext.
Alleyway Next To Abandoned Building – Same Time
Cautiously, Kennedy approached the building indicated by the locator spell. She ducked down behind the nearest dumpster, briefly wrinkling her nose at the smell. Her eyes swept over her surroundings, looking for any sign of impending danger. Her muscles tensed in anticipation as she slowly stalked her way closer to the entrance of the building.
Unbeknownst to Kennedy, a cloaked figure sat perched on a ledge at the edge of the building's rooftop, his eyes trained on her as she moved below. A low chuckle emitted from his hood right before he leapt from the ledge.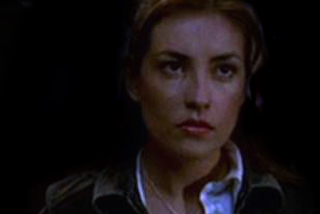 Kennedy stopped dead in her tracks when a figure dressed in a black cloak suddenly fell out of the sky and landed right in front of her. She took a step back and watched as the figure slowly rose from his crouched position.
"You should not have come here," came a deep voice echoing from beneath the man's hood.
Kennedy stood in a defensive stance, ready for a fight. But the cloaked man never attacked. He just stood there, silently staring back at her.
"That's it?" Kennedy said, straightening her stance. "That's all I get? A 'you should not have come here' and then the silent treatment?" She shook her head with a sigh. "Boy, you baddies are really slipping in the intimidation tactics, 'cause I gotta tell ya, I just ain't impressed."
The man took a step closer and stopped. Kennedy quickly jumped back into a defensive position, but the man did not advance further. "I take this to mean that you are not going to leave willingly?"
Kennedy smiled. "Strong, silent and smart? Daddy must be proud, but…I still ain't impressed." She turned to look around at the empty alley. "I mean, come on, give me a little credit here. I am a slayer, you know. I came here to bust in and save the day, and all I get is you to stop me?" She shook her head with a sigh. "I'm hurt."
The man in the cloak slowly lifted his hands and pulled the hood back from his head. Kennedy flinched when she took in his features. A long, ugly scar ran diagonally from the right side of his forehead to the left underside of his chin, and his right eye was nearly completely white.
"You must forgive me," the man said. "I'm not as handsome as I once was, thanks to your friend, the hunter."
"Kadin? Did…that?"
"Yes," the man said grimly.
The slayer sighed. "I'm really sorry, but it still doesn't give you the right to hunt her down and put her on some bogus trial for show. You oughta know…she's not the same person she was back then."
The man chuckled. "Well, it seems she has worked her charms on yet another unsuspecting victim." The smile slowly faded from his face. "But I suppose it would be futile to attempt to persuade you otherwise. If my own sister wouldn't listen to reason…"
"Wait," Kennedy said, suddenly looking confused. "Your sister?"
"Yes. My sister, Serena," he answered calmly. "And because of your so-called changed friend, she is now dead."
"Just a minute," Kennedy began to argue. "If I remember right, it was your own kind that killed Serena, not Kadin."
"Enough!" the man shouted, causing Kennedy to jump. "If you won't leave, then I have no choice but to let you stay."
She regarded him anxiously. "Why do I suddenly have a very bad feeling about that?"
In the alley, the sound of quiet footsteps echoed in Kennedy's ears. She quickly turned and scanned the alleyway to find that she was now surrounded by cloaked figures.
"Okay. Now I'm impressed," she said ruefully.
Cut To:
Int.
Abandoned Building – Main Room – Moments Later
Kadin sat on the cot with her back against the wall. Her eyes were trained on the old and worn wooden planks of the ceiling above her. She looked lost in deep thought, but the serene moment was abruptly broken when the door swung open loudly for the second time that morning.
Kadin glanced down at her watch. "It's only been ten minutes. What are you doing b –" The rest of the sentence died in her throat when her eyes caught sight of Kennedy stumbling into the room, a guard right behind her.
"Okay, jeez," the slayer complained. "I'm goin'. No need to get pushy."
The guard searched Kennedy's jacket and removed her cell phone, then shoved her further into the room before slamming the door shut behind her.
"Kennedy?" the hunter asked in surprise as she rose to her feet. "What the hell are you doing here?"
Kennedy met the hunter's eyes and smiled. "Isn't it obvious? I'm here to rescue you."
Kadin took a deep breath, sat back down and looked away. "You shouldn't have come here," she said.
Kennedy couldn't help but smile. "Now is that any way to greet a friend? If you're not careful, I just might get the impression that I'm not wanted."
"This has nothing to do with wanting you, Kennedy," Kadin replied quickly. Then, as if realizing what she had just said, she shot a furtive glance in Kennedy's direction. "I mean…this is my mess. I have to deal with it on my own. You shoulda just stayed out of it."
The slayer shook her head as she started to pull off her jacket. "You know us slayers, Kadin. We never can mind our own business. Besides, I've been looking to get away on a little vacation and I heard the accommodations here were better than the Ritz Carlton." She threw her jacket on the back of the nearest chair before plopping down into it.
Kadin sighed and dropped her head back against the wall. "Slayers," she grumbled.
Cut To:
Int.
Watchers Council – Library – Same Time
Rowena sat at a table in the library, holding her hands in her lap and staring down at her silent cell phone. Faith, however, wasn't sitting. She was busy pacing back and forth like a caged animal.
"Shouldn't she have called?" the slayer asked anxiously. "I mean, she shoulda been in there by now, right?"
Rowena looked over at the nervous woman and nodded.
"Yeah," she said quietly, before turning her eyes back to her cell on the table. "But this is Kennedy. I'm sure she's fine. Just…give her some time."
Faith sighed. "I hope you're right."
The sound of Kennedy's voice suddenly broke through the tense moment. "Ro, this is Kennedy. Do you read me?"
Rowena smiled and instantly lifted the walkie-talkie from her lap to her mouth. "Kennedy?"
Cut To:
Int.
Abandoned Building – Main Room – Same Time
"Yeah. It's me," Kennedy said. She held a finger in her ear to activate the tiny earbud. The slayer cut her eyes over to the hunter, who was still sitting with her back against the wall, staring up at the ceiling. "I found Kadin."
Cut To:
Int.
Watchers Council – Library – Same Time
Rowena and Faith both smiled. "You did? How is she?" the blonde asked hopefully.
"She's fine," Kennedy's voice came over the radio. "For the moment, anyway."
Faith grabbed the walkie-talkie from Rowena, but just had time to say, "Should we send over a team?" before the watcher promptly snatched it back.
Cut To:
Int.
Abandoned Building – Main Room – Same Time
"No, I don't think so," Kennedy said, looking over at the hunter brooding on the cot. "Kadin pretty much wants us to butt out and Alex suggested the same. I'm not leaving, though."
"Are you sure?" Rowena asked emphatically. "If Alex is wrong, and this turns out to be more of a lynching than a trial, you could be in danger too."
"Yeah, I'm sure. They don't have any beef with me. I didn't even have to crack any skulls to get inside. I'm safe…for now…But keep a monitor on this channel, in case things turn ugly."
Cut To:
Int.
Watchers Council – Library – Same Time
"Will do," Rowena said.
"Kennedy out."
When Rowena put the walkie-talkie on her hip, Faith lit into her.
"That's it?" the slayer said.
Rowena nodded. "That's it."
"This is bull," Faith huffed before quickly leaving the library.
Rowena called out, "Faith," making the slayer stop and turn around briskly. "Trust Kennedy. I know she can handle this."
"No offense, Blondie, but you haven't been batting a thousand lately. You just better pray you're right this time," Faith said. Then she left the library.
Cut To:
Int.
Abandoned Building – Main Floor – Moments Later
Kadin let out a long sigh and pulled herself away from the wall. She glanced down at her watch before meeting the eyes of the vigilant slayer, who still sat in her chair.
"So what's the deal with you and the watcher chick anyway? She your new girlfriend or somethin'?"
"Ha! Rowena?" Kennedy asked incredulously, then chuckled. "Hardly. She's just…a friend…Kinda…When we're not ready to rip each other's lungs out, which I'd probably win at, if it got to that point…But yeah, friends, I guess."
Kadin smiled. "Yeah. Like I haven't heard that one before."
The slayer shook her head. "No, really. In fact, she's my ex's girlfriend, and I don't even want to get into that long story."
"Oh, even kinkier'n I thought. You're seeing your ex's gal."
Kennedy didn't answer. She only gave the hunter a deadly glare.
"Ouch," Kadin laughed. She pulled herself up off the cot and made her way over to sit in the chair across from Kennedy. "Wait, by ex, you mean Willow? The redhead? The girl you were so caught up in that you nearly let a vamp suck you dry?"
Kennedy looked up sharply at that last comment.
Kadin only smiled. "Don't look so surprised. I told you, I never face an enemy without knowing them first."
"Is that what we are? Enemies?"
Kadin's smile slowly faded and she averted her eyes. "If you can't tell by now…"
Before Kennedy had a chance to respond, the door swung open and Elana walked in, carrying her briefcase. The lawyer's eyes fell on the room's new occupant.
"You must be Kennedy," she said. "They told me you'd be in here." She walked over and extended her hand to the slayer. "My name is Elana Velmont. I'm representing Kadin. It's nice to meet you."
Kennedy stared at the other woman's outstretched hand for a moment, then hesitantly reached out to shake it politely. "Same here."
Elana dropped the slayer's hand and turned to Kadin. "You ready?"
The hunter nodded. "As I'll ever be." She turned to glance at Kennedy, as if they were parting ways.
"Oh," Elana broke in, "she'll be coming with us."
"What? No! She can't!" Kadin protested adamantly.
"I'm afraid you don't have a choice in the matter," the lawyer said calmly. "Please," she motioned towards the door.
Kadin glanced back at Kennedy, then sighed and stood up. "Fine."
Kennedy watched Kadin's reaction with interest, her eyes locked on the hunter as she followed her lawyer from the room. Elana stopped in the doorway and looked back at the slayer.
"Now would be good," the lawyer prompted.
Kennedy shook her head. "Right." She got up from her chair and followed the others out of the room.
Black Out
End of Act Three