act 3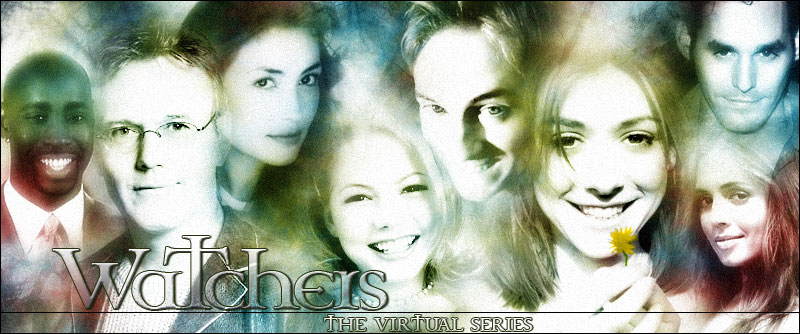 Fade In:
Ext.
Cleveland Waterfront – Moments Later
Faith, Kennedy and the rest of their group of slayers walked down a rapidly drying street, their feet splashing in puddles, frequently stopping to motion various on-lookers back into their dwellings. It was then that Faith turned to see about ten demons starting to make their way toward the group.
"Get the girls out of here," she told Kennedy. At that point, Kennedy looked over Faith's shoulder to see the squad of monsters advancing on their position.
"Have you forgotten? I'm the one who gives the orders now," Kennedy challenged.
"Ken, please. I don't have time for you to pull rank," Faith said, raising her voice. "Most of these girls just learned how to hold a stake. We both know that. Now get them out of here!" Kennedy looked undecided for a moment, her eyes straying again to the group of demons. "Go." Instead of a command, Faith made the word sound more like a plea.
"Heads up, everyone!" Kennedy shouted, while still looking at Faith. She handed over her sword to her friend, her eyes saying what she couldn't find words for. She then turned to the remaining group. "Retreat, north," she pointed and took off into a run, with the girls following her.
From the side of the street, the cameraman asked, "Where do I shoot?"
"Stay on Faith," Derrick answered, and the cameraman turned to focus in on the lone slayer.
Faith turned around and squared her shoulders to face the demons.
Cut To:
Int.
Watchers Council – Conference Room – Same Time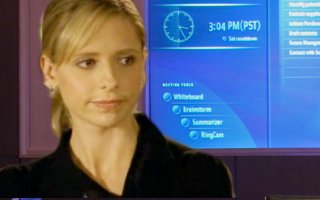 Buffy sat in one chair with Rowena in another. Between them sat Willow who took both of their hands in each one of hers as they watched Robson on the large video screen.
Cut To:
Int.
London – Watchers Council – Conference Room – Same Time
Robson cleared his throat.
"The Council as a whole has reviewed the evidence, and we've now tabulated the voting from the reporting branches in regard to the dismissal of Faith Lehane," he began.
Cut To:
Ext.
Cleveland Waterfront – Moments Later
Faith pulled her other sword from its scabbard and began to walk down the street to square off against the demons, a sword in each hand.
Cut To:
Int.
Watchers Council – Slayer Gym – Same Time
From the makeshift media room that had been set up in the gym, Andrew and Tracey stood by a television watching the news report on Faith. Jackson and several of the other watchers stopped briefly to look at the wide-screen television.
Cut To:
Int.
London – Watchers Council – Conference Room – Same Time
"After careful deliberation and examination of the evidence, and the testimony of Cleveland Council members, including Mr. Wood, who made a personal appearance here today… " Robson went on.
Cut To:
Ext.
Cleveland Waterfront – Same Time
Faith took down two demons immediately with each of her swords, but the next demon knocked one of them away. She didn't miss a beat, however, as she flipped over that demon's back to strike down another one.
Cut To:
Int.
Cleveland Bar – Same Time
Stan and his cronies, who had returned to the soggy downstairs bar, gave a cheer as they watched the third demon fall. On the bar's TV, Faith moved on to the next opponent with amazing speed.
Cut To:
Int.
London – Watchers Council – Conference Room – Same Time
Robson looked down briefly at the paper in front of him, "The Council has now reached a verdict."
Cut To:
Ext.
Cleveland Waterfront – Same Time
Faith was well on her way to taking down her sixth demon when her eyes went wide. She looked down to see the point of a sword sticking out through her stomach.
Cut To:
Int.
London – Watchers Council – Conference Room – Same Time
"I'm proud to say that the Council has officially reinstated Faith Lehane to full service and former rank," Robson announced with a grin.
Cut To:
Ext.
Cleveland Waterfront – Same Time
Faith's mouth widened as the demon behind lifted the sword up, then pulled the sword out and kicked Faith forcefully from behind, sending her flying. The slayer landed hard by the side of the road and rolled for a few yards, but quickly stilled, her life's blood staining the pavement beneath her.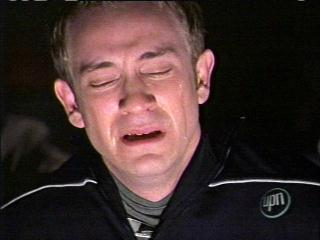 Cut To:
Int.
Watchers Council – Slayer Gym – Same Time
Andrew burst into tears, while Tracey wore a look of disbelief, much like Jackson and the other watchers.
Cut To:
Int.
Watchers Council – Conference Room – Same Time
Buffy, Rowena, and Willow all gave a cheer and hugged one another.
"Good work, Robin," Rowena complimented him via the camera.
Cut To:
Int.
London – Watchers Council – Conference Room – Same Time
Robin simply smiled and gave her a nod.
Cut To:
Int.
Cleveland Bar – Same Time
Stan and the rest of the bar patrons sat in stunned silence.
Cut To:
Ext.
Cleveland Waterfront – Same Time
The cameraman moved from Faith and focused back on Derrick, who appeared obviously shaken.
"Uh, ladies and gentlemen, we're, uh, we're going to take a commercial break for a few moments."
He stood for three seconds and then made a slash motion across his throat. The cameraman slowly lowered the camera.
For a brief moment, Derrick looked as if he might cry, but he motioned the cameraman to follow him up the street.
Cut To:
Int.
Watchers Council – Conference Room – Same Time
Buffy turned to Rowena.
"Get Faith on the line," she said. "Tell her the good news. I'm sure she'll want to hear it."
Rowena nodded and picked up the phone, while Willow waited nearby. Buffy smiled to herself, collecting her things in preparation for leaving the room.
Cut To:
Int.
Cleveland – Motel Room – Same Time
Marissa sat on the end of her motel bed, her television playing in the background. She stared at it blankly for several seconds before burying her face in her hands. She didn't stay there long, however, as she wiped her face in one sweep and stood up. Going to her nightstand, she took out a gun and shoved it into her waistband, then left the room.
Cut To:
Int.
Cleveland Bar – Same Time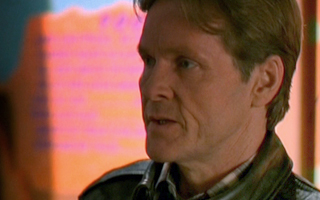 "That's messed up," Stan said, breaking the silence.
A few of the patrons unintelligibly mumbled their agreement.
"I really thought she'd make it," his buddy next to him said sadly.
Stan's expression grew angrier by the second. "Well I'm gonna do something about it," he said as he stood up.
"Do what?" his buddy asked. "She's gone, man."
"She might be, but you know what? We're not. No one here is, and from the looks of it, there's more of us than there are of them. So why the hell are we sitting on our asses in a bar?"
"Because it's safe," his friend argued.
"For how long?" Stan challenged. "Until all those superhero girls are dead? Sorry, but I'm not waiting that long. They want a piece of me, I'll give it to 'em. Anyone that wants to help is more than welcome to come along." With that, he made his way to the door.
First, no one moved, but as Stan exited, two men stood up and began to follow, then two more and then three more.
"Are you guys nuts?" Stan's friend asked as they were leaving.
"Maybe," one of them said as he walked backward toward the exit. "But like Stan said, I'd rather go down fightin' than hide in fear, just waitin' for them to kill me later."
The man at the bar paused for a moment, then said, "Son of a bitch." He downed a shot in one gulp, slid from his stool and made his way to the door, too.
Cut To:
Ext.
Cleveland Waterfront – Same Time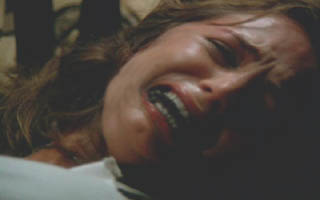 Faith looked down toward her stomach and tried to rise, but the pain sent her back to the concrete. She brought her hand up to her face and saw it covered in blood. When she moved her hand, she saw Gabrielle standing over her.
"Oh, so now you show-show up, huh?" Faith asked, her words straining past her lips. "You-you think slayer healing will help?" She motioned to her wound.
Gabrielle simply shook her head.
"You knew, huh? You knew this was gonna happen, didn't you?" Faith cried.
This time, Gabrielle nodded.
Faith began to cry harder. "I don't wanna die yet," she told her. "Not like this, not-not now."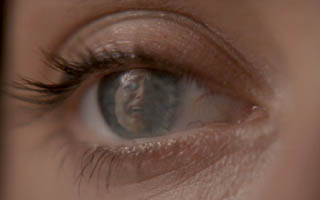 "You don't understand, Faith," Gabrielle told her, "but this had to happen. And although you won't live to see it, the world is already changing because of you, because of what you risked and lost."
The image of Faith crying reflected in Gabrielle's eye, and the angel, too, slowly began to tear up.
"I'm not ready," Faith told her, and began to repeat it. "I'm not ready. I'm not ready."
"Shh," Gabrielle told her, caressing her hair. "You can stop fighting now, Faith. Just let go…let go." The gentleness of Gabrielle's voice seemed to calm Faith.
"Close your eyes," Gabrielle told her. "Close your eyes and let go."
Faith's eyes fluttered closed, and she swallowed hard. "So tell me the truth…" Faith struggled to get out the words, her eyes still closed. "If I had more time, time to try to set things right, do you-do you think I-I would have made a good archangel?"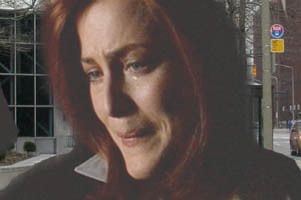 Gabrielle didn't have a chance to reply, as the slayer took her last breath.
The angel then stood and looked down at the dead slayer. A single tear ran down her face.
Cut To:
Int.
Watchers Council – Conference Room – Same Time
Andrew entered the conference room, still crying, bringing Willow, Rowena and Buffy all to their feet. Rowena immediately put down the phone in her hand.
"What's wrong, Andrew?" Willow asked.
"Faith," he said through his tears. "I just watched Faith get killed on TV."
Cut To:
Int.
Undisclosed Location – Moments Later
Gabrielle walked through a long white hallway and stopped at an archway leading to a large room. It appeared to have no ceiling, but natural lighting. At the far end of the room, another woman stood, her head down, as if she were examining something. Gabrielle squared her shoulders and closed the distance between them.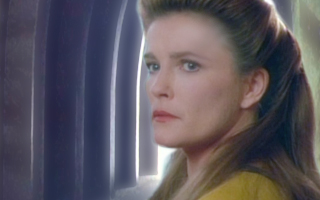 "My Lady?" she said softly, with a slight bow, although the other woman didn't turn to face her.
"I know the message that you bring," the other woman said, slowly turning around to face the angel. "And I know what you are about to request…You realize what is at stake here, do you not?"
"Yes, my lady," Gabrielle answered. "If we perish on the earthly plane, we perish forever. I've spoken to Michael, and his teams are ready for battle."
The woman let out a long sigh and turned around. She began looking down into what looked like a vortex. It showed the events on earth as they were happening, the destruction and chaos.
"This wasn't meant to be our fight. It's up to humankind," the woman answered.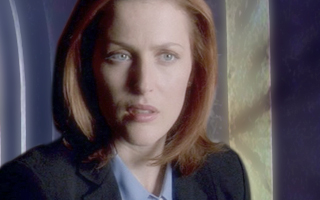 Gabrielle took a step closer until she was shoulder to shoulder with the woman.
"I realize that, my Lady, but they say God helps those that help themselves."
Both women looked at each other and gave a light smile.
"They also say you're a man named Gabriel," the woman said with a snort.
"True," the angel conceded with a friendly grin, before turning serious again. "But the humans are trying, and in great numbers. Faith Lehane has served her purpose, answered her call. But we both know it's not enough for what Lucifer has planned for them."
"And the witch?" the woman asked, turning her attention back to the vortex.
"She's called upon other deities, who have answered her prayers…or at least they are trying to answer them. Without added support, I don't think mankind will be victorious."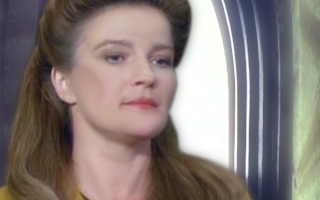 The other woman paused for a long moment, then turned to Gabrielle.
"Tell Michael to ready his troops."
Gabrielle practically beamed. "Thank you my Lady…and if I may be so bold to ask…"
"You want the power of Hilaria to use in this fight?" the woman asked, a single eyebrow raised.
"Yes, my lady. I know it's unorthodox, but the events at hand are a bit unusual. I'm sure you'd agree."
"You may," she answered. "But only you and only once. No more."
With another respectful bow, Gabrielle said, "Yes my Lady. I'll inform Michael immediately."
She had begun to walk away when the other woman called out. "Gabrielle?"
The angel stopped and turned around to face the call.
"You've served us well for eons," the woman said. "Take care that it's for eons more. Understood?"
"Yes, my lady," she answered, giving another bow before starting on her way.
Cut To:
Int.
Watchers Council – Conference Room – Moments Later
Andrew was crying silently, wiping his eyes, as the three women watched the televised images on the conference room video screen.
"Oh God," Rowena said as she watched the mortal wound happen, and both she and Willow looked away from the monitor. Buffy, however, sat stone-faced, her eyes glued to the video.
"Where did this happen?" Buffy asked.
"Uh," Andrew said, caught off guard by the question. "The waterfront, from the looks of it."
"You guys take over," Buffy said, her voice wavering slightly as she rose.
"Where are you going?" Willow asked. She was still crying, wrapped in Rowena's arms.
"I'm bringing her home," Buffy replied, and she left the room.
Cut To:
Int.
University Hospital – Delivery Room – Same Time
"Mr. Giles? Come with me," Dr. Abraham said, motioning him to follow her outside the delivery room. He gave Becca's hand a squeeze. She watched from her bed as he followed the doctor out.
"We need to make a choice," the doctor told Giles, once they were outside the delivery room. "I can try to postpone labor, but there's a good chance it might result in a stillbirth. There's also a chance that we could lose Becca too – the stress she's under is getting worse. Because of her dilation, an infection could kill her and the baby if we try to wait."
Giles ran his hand over his mouth, and it came to rest on his chin. "What do you suggest?" he asked.
"Delivery," she replied. "We take the baby and get Becca stabilized. But keep in mind that the chance of this child dying is sixty percent. The odds are not in your favor here, but it will increase the chances for both of them more than postponing labor, in my opinion."
"I…I don't want to lose my wife," Giles answered, his voice wavering.
The doctor ran her hand over his arm in support. "I'll tell them to get ready for delivery then. Go ahead and get your scrubs on," she said, pointing to a room across the hall, "and we'll notify the newborn ICU to be on standby."
Giles nodded nervously as the doctor went back into the delivery room. He watched her go until she was out of his sight, then slowly turned around toward the changing room.
Cut To:
Int.
London Watchers Council – Moments Later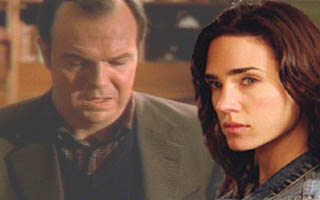 Robson looked nervous. "Mr. Wood," he began, "Are you sure –?"
"Play it," Robin told him.
Reluctantly, Robson pressed a button on a television and moved back to stand next to Althenea, who was also in the room with them. They all watched as a BBC news reporter began to give an address.
"The local Fox affiliate in Cleveland captured some stunning acts of heroism and sadness on film earlier today. In a matter of a few short hours, a slayer in America, known only as Faith, has been gaining in popularity as a news crew followed her. Many of our man-on-the-street interviews found people mentioning her because of her quick wit and cheeky style…Sadly, the news crew that was following her exploits and heroic deeds ended up filming her death. Please be advised that the images you are about to see are quite graphic."
Robin's face was expressionless as the sounds of the battle re-played over the television. At first, his bottom lip began to tremble, but then he closed his eyes and ran his hand over his face.
"I'm so sorry," Althenea said in a gentle voice, as Robin looked back at the screen. The reporter returned at that point.
"We know many of our viewers were watching the feed when the broadcast originally aired and have now taken to the streets, not just at home but abroad in several places in America and Europe. We've been asked to issue a statement from the Prime Minister requesting that people stay in their homes until authorities have eliminated the threat. Even in light of this plea, we've found several people who are taking matters into their own hands, as Roger Lennox reports."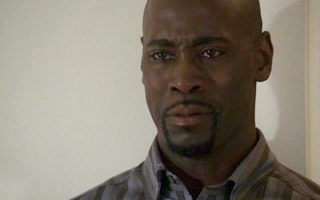 Robin watched as the video cut to a reporter in the field talking with a man carrying an axe in his hand as he walked down the street.
"Sir," the reporter asked, "you realize authorities are asking that people stay indoors."
"'ell wit that," the man replied. "If 'at li'l girl over the pond's willin' to fight and die for folks who aren't blood, then maybe it's time we all got involved, eh?" he asked the reporter.
Robin had tears in his eyes as he listened to the report, but he began to grin slightly. "You did it, Babe," he said softly. "Don't know if you're catchin' all of this, but…you did it."
Robson and Althenea looked at Robin, confused, but didn't press him for an explanation.
Cut To:
Int.
Watchers Council – Lobby – Same Time
"Where do you think you're going?" Vi caught her twin sister's wrist as Angie tried to walk past her toward the front door of the building.
"Same place as you, I'll bet," Angie answered. "Out there."
"Angie, did you see what happened to Faith?" Vi asked. "Saying 'it's not safe out there' would be a massive understatement."
"Yeah, I saw," Angie shot back, shaking her arm free. "So did everybody else. And, you know what? People seem to think it's time we all fought back."
"We are fighting back," Vi insisted. "Slayers. Watchers. You're not going out there."
"Yes, I am," Angie replied. Vi's eyes widened. "What? Just 'cause you're the big, bad slayer now you think you're the boss of me? People are panicking. Those of us who know the score need to get out there and help."
For a moment, the twin sisters engaged in a staring match. Then Vi sighed and relented. She motioned for her sister to follow her to the door. "I'll be okay," Angie continued. "You forget, which one of us made the cheerleading squad again?"
"You know I wasn't really trying," Vi said.
"If that's what helps you sleep at night," Angie grinned. The two girls had reached the front door.
"You are impossible," Vi giggled. She reached over and grasped her sister's hand, more gently this time. "Be careful," she said sincerely.
"You too," Angie replied. "Remember, being a slayer doesn't make you invincible."
"Don't I know it," Vi sighed. "Just promise to stick close to me, because being a slayer does help."
The twin sisters exited the building.
Cut to:
Ext.
Cleveland Waterfront – Same Time
A black Council van weaved along a lakefront street. The entire area was completely deserted, cars abandoned by their owners. Many were water-logged, but some further down the street had flames licking from beneath their hood, where the water hadn't reached. A small group of people encircled the body. They appeared to be standing guard. Soon the vehicle glided to a stop, and Buffy hopped out of the passenger-side door.
She jogged a few paces and came up short before the small crowd.
"Are you like her?" a woman standing closest to the body asked. Tear tracks ran down her face.
Buffy nodded. "I'm just like her," she answered slowly. "I've come to take her home."
The woman nodded and, with a motion, she and the rest of the group silently stood aside.
Faith's body lay in an awkward position on the shoulder of the road. Buffy's face was a mask. She looked away from the corpse, taking in the glittering expanse of Lake Erie. A beautiful white sailboat, seemingly without a crew, drifted only a few feet off the beach.
Buffy shook her head. "She's over here, guys. Let's go!"
Cut To:
Int.
Watchers Council – Library – Moments Later
Willow walked in to find Jeff and Rowena looking over some paperwork.
Willow still sniffled. "What are you doing?" she asked.
"Making sure Faith didn't die in vain," Rowena said, without looking up. "That bitch Wagner is behind all of this, and I'm gonna find a way to bring her down." She turned to Jeff and said, "Let me see that map."
He moved it to her and stood at her side.
"Now when you did the spell, Will, you said you saw rock, right? Lots of rocks?" Rowena asked.
"Yeah, but…"
Rowena began to nod as she read from a notepad. She looked at the map and started to tap it. Then she turned back to Willow.
"Get me Dawn," she told the High Priestess. "I've got an idea of where to send her."
Cut To:
Int.
Watchers Council – Morgue – Later that Evening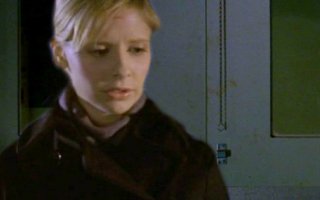 Faith was laid out on a metal slab in the Watchers Council morgue, her eyes closed. She looked like she was asleep.
Buffy stood over her. "So," she said, "here we are." The corner of her mouth was trembling a little. "Remember when this would have made us both happy? Remember when you wanted out, and I would have been happy to help?" Buffy placed a shaking hand on Faith's arm.
"But things change. And when it was time to keep fighting, you said yes and I said no. You were the one, Faith. You spent your entire life trying to live up to me, and now I'm the one who has to live up to you. And this time, when the world was ending, I stayed home and played watcher, and you were out there…" With a loud sob, Buffy's veneer of control broke down. Tears ran down her cheeks.
Buffy put a hand over her mouth for a few seconds, steadying herself against the metal cabinets of the morgue. After taking several deep breaths, Buffy leaned down and kissed Faith on the forehead.
"I forgive you for everything," she whispered. "I only wish you were here to forgive me."
Cut To:
Ext.
Central Hong Kong – Same Time
A huge throng of screaming people ran down a Hong Kong thoroughfare, dwarfed by huge skyscrapers on either side. In the distance could be seen several large winged demons. They were flying toward the mob.
In the mouth of a small alley, Chao-Ahn was holding court as the stampede to get away from the demons passed by. She was bleeding from a cut over her left eye, and a long gash ran down one arm. Around her stood four similarly beaten-up girls.
"We have to get out there," Chao-Ahn said in Cantonese. "Those things will tear them apart."
"Like they tore apart the Council?" one of the girls asked, also in Cantonese. "Chao-Ahn, we're all that's left. For all we know, it's the same everywhere."
"That doesn't mean we get to stop fighting," Chao-Ahn replied. "We're slayers, and as long as we're here, and human beings are still here, we keep going. You got it?" After a moment, the rest of the girls nodded. The edge of the crowd seemed to have passed by the alley, with only a few stragglers lagging behind. As Chao-Ahn led the girls out of the alley, one of the girls pulled her aside. "I – I saw what those things did to Lee…" she stammered.
"I know," Chao-Ahn said, her face blank. Then she shifted back into command mode, glancing up at the quickly approaching group of demons. There were several more of them than she had slayers. "Okay, form a line!" she yelled, and the girls complied, stationing themselves at intervals across the roadway. "Whatever happens," she shouted, "we hold this line!"
The demons swiftly flew closer. The girl who had pulled Chao-Ahn aside looked like she was on the verge of bolting. Chao-Ahn's hand tightened around the hilt of the sword in her belt. The demons swooped down to street level.
Just as the first demon was about to reach the group, its head flew off its neck and bounced to the ground, rolling slowly to a stop at the feet of one of the slayers. Soon, several more of the creatures were spiraling sideways into buildings, their broken bodies mixing with broken glass on the pavement below.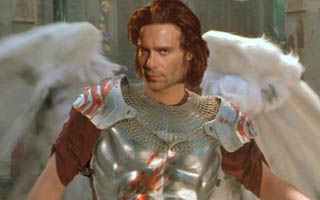 Soon all the demons were either killed or driven off. A winged figure, glowing with a white light, lightly touched his feet down on the ground. The light slowly dissipated to reveal a man with long brown hair, a shining breastplate and a small smile.
"My name is Michael," he said, "and I'm here to help."
Among all of the relieved looks in history, Chao-Ahn's at that moment was among the most spectacular.
Cut To:
Int.
New York City – Grand Central Station – Same Time
Demons swarmed through the broken floor of the terminal on their way to terrorize the outside world. They began to run in packs as people scattered to move out of their way.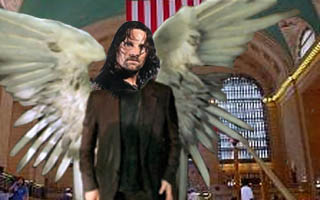 As they raced to the surface, trying to make their way to the city streets, they simply tossed anyone that stood in their way. Then, suddenly, a blinding white light shone from the center of the floor, and all the surrounding demons cowered in terror.
The light quickly dissolved into a man with a stubbly beard, wielding a sword. He swung his blade and immediately severed the nearest demon in two.
From the top of the stairs he lowered his sword, while the demons looked at each other, as if unsure of what to do or where to go.
"Rafael," one of the demons said in fear.
A moment later, another angel materialized next to Rafael.
"Our guardians are trying to look after the humans," the angel said upon his arrival, "but it's difficult with so many out here in such great numbers right now."
"Do what you can, where you can," Rafael ordered, which sent the fellow angel off with a nod.
"You're not to interfere," growled one of the demons.
Rafael grinned. "My work has always been to protect the young, the innocent and the travelers of this world." He paused as he looked around at his surroundings. "So the truth is, you're interfering in my domain by being here. And it's my job to handle that." Rafael then jumped from the steps and into the pit of demons. His blade worked with amazing speed.
Cut To:
Ext.
Central Hong Kong – Moments Later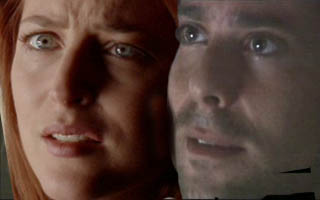 Out of nowhere, Gabrielle appeared beside Michael.
"Are you sure you can handle all of this alone?" she asked, as they both watched the slayers and his troops doing battle with a horde of demons.
Michael nodded. "Yes, go see to the other side," he told her. "I'll control things here until it's time."
"And if they don't figure it out?" Gabrielle asked.
"We fight until every last demon is gone," Michael answered with a grin. "Now, go. I'll be fine."
Not needing to be told twice, Gabrielle vanished instantly.
Cut To:
Ext.
Above Downtown Cleveland – Moments Later
A flock of winged demons swooped down again upon the Cleveland skyline, looking to wreak further destruction. They seemed to spot Kennedy's crew running down the street and changed direction. They landed firmly in front of them. By the time Kennedy turned the group around, another set of demons was already behind them.
"Now what do we do?" a young, scared slayer asked Kennedy.
Gabrielle stepped out slowly from one of the buildings. Her sword, with a golden hilt, was already drawn. Kennedy was surprised when all the demons took a few collective steps backward at the sight of the new woman's arrival.
"Those who serve Lucifer, hear me!" Gabrielle shouted. "I am Vengeance and I am Death. And I say unto you…this has gone far enough!"
"This isn't your fight," a demon hissed.
Gabrielle grinned for a brief moment before she raised her sword with a look of steady determination.
"It is now," she replied coolly.
Kennedy and the other slayers looked at each other, unsure of what to do.
Black Out
End of Act Three