Act 4

Fade In:
Int.
Watchers Council – Slayer Rec Room – Resume
The sudden darkening of the vidscreen had frozen the fighting slayers into a tableau. Mira was holding Bunni's shirt collar and had her arm cocked back, as if ready to deliver another blow to the younger slayer's face.
Mira released her hold on Bunni's collar, and the younger slayer dropped into a chair with a muffled, "Oomph!"
Slowly, every head turned to the vidscreen.
Cut To:
Int.
Imperial Casino, Las Vegas – Same Time
There was a most un-Vegas-like quiet as the stunned patrons watched the blank vidscreens with open mouths. The silence didn't last. The room exploded into shouts of outrage from patrons who had money on the Council, and they were soon drowned out by the gleeful cheers of bettors who had gone with Hubris.
"See what I'm telling you, Bob? I'll bet the actress playing the slayer had to go to the john, or somethin', so they stage a scene break. It's all fake, I'm telling ya."
Cut To:
Int.
Council Command Center Tent – Same Time
"What happened?" Jocasta asked worriedly. "There was a boom, and then the screen just went blank."
"Gentlemen?" Giles asked Lex and James as they worked at the Seraphim control consoles.
Lex was busy working the boards and didn't bother looking up as he answered. "No idea at the moment. Telemetry registered an energy pulse, then all signals went dead."
"Can you do something? Go to…to backup circuit thingies, or something like that?" Katherine asked.
Lex and James looked at each other. It wasn't an encouraging look.
"We're trying, but…" James trailed off.
"It doesn't look good," Lex admitted.
Cut To:
Int.
WorldNet News Network Control Center, New York – Same Time
"Cut to Lance, now! Get that dead air off my vidscreens!" the director yelled. "Let's show the whole damned world what we're made of!"
The director pointed to a technician. "Cue commercial!"
Then he turned to another technician. "Get the other slayer hover-cam up! I want to see what's happening!"
Cut To:
Int.
WorldNet News Tent – Seconds Later
Lisa Lance chuckled nervously as the camera closed in.
"We seem to be experiencing some technical difficulty with the slayer-cams," she reported with a smile. "Our technicians are hard at work on repairing the vid feed. In the event that the camera is irreparable, we will be switching to the hover-cam following Hubris's contender. Stay tuned. We'll be right back."
Cut To:
Ext.
Dallas, Texas – Night (on-screen)
Dramatic music began.
A city appeared, burning in the night. The camera moved in and focused on a raging battle.
SUPER: "The last days of the Siege of Dallas."
The sound of a jet's engine grew beneath the music. The camera panned underneath the jet, and the Council crest appeared.
The music swelled as the jet arced towards the battle.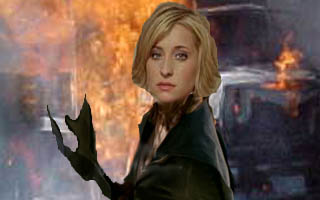 SUPER: "Hope arrives."
A series of rapid scenes flashed across the screen as drop-suit-clad figures dropped from the jet.
SUPER: "Slayers."
A huge demonic figure, backlit by a burning truck, loomed over a group of fearful civilians. It paused and turned.
SUPER: "Evil beware."
The camera panned around to focus on a young woman carrying an axe. Jessica Wells brought the axe to the ready position and glared defiance at the demon before her.
"Time to die," Jessica told the demon.
SUPER: "Slayer Wars. / Coming soon to holo-theatre near you."
Cut To:
Int.
Watchers Council – Slayer Rec Room – Seconds Later
"Now, that's more like it!" Bunni yelled. "I knew Jessica wouldn't let us down! Now, that's a slayer movie!"
"Give it a rest, Bun," one of the younger slayer's friends cautioned. "In case you were too busy being throttled to notice, the camera was on Livia when it went out. We don't know what's up with her right now. She may be…" she trailed off.
"What? Livia may be hurt? May be dead?" Bunni questioned. She looked over at Mira, who was watching the vidscreen as the scene cut to Dixon. "Nah," she said with a tone of complete confidence. "She's Livia. She's a slayer. She's not gonna let us down. She's not gonna let us down. You can't stop a slayer on a mission."
Cut To:
Ext.
Anomalous Zone – Mist Ring – Later
The Seraphim was broken, and she bled synthetic blood, which mixed with the Slayer's as it ran, red and black, from ragged gashes.
She lay still.
Deathly still.
Lightning flashed.
VOICE OVER (Katherine, softly chiding): "Livia…"
Cut To:
Int.
Katherine's Quarters – Day (Flashback)
Katherine and Livia sat across from each other, eyes closed. Mostly. Livia kept opening one eye and glancing at the clock.
Without opening her eyes, Katherine said, "We're not on a schedule, Livia. You don't find enlightenment by watching the clock."
Livia opened her eyes. "What? How did you know?"
Katherine's face was serene, her entire person at ease. "I sit at the center of the web of the world, and the threads of creation whisper their secrets in my ear. The knowing of things flows into me…through me…into my blood and bone. How could I not know?" she intoned.
"No crap?" Livia asked, impressed.
Katherine opened her eyes and smirked. "Nah, I'm just kidding you. Actually, I just know you and kinda guessed."
"Oh." Livia actually sounded disappointed. "Well, thanks, but I really don't think this is gonna work anyway. I should be concentrating on practicing with the Seraphim armor. That's what's gonna win this thing anyway.
"I…Livia, I don't think…Isn't that Hubris's argument?"
"What do you mean?"
"I mean…if it all comes down to who has the bigger guns, the more advanced technology, are we still relevant? Slayers, I mean?" Katherine shook her head. "It's like when my sister and I used to race."
"Okay, you kinda lost me there. I'm not seeing how you beating your sister in a race has anything to do with this."
"That's the thing. More often than not, she would win."
"Wait. Your sister isn't a slayer. Are you talking about before you were Called?"
"No, after. You see, to make it fair, we decided that she got to use a bicycle."
"Humph. You're a hell of a lot more generous than me. But I still don't see—"
Katherine stared at Livia with an uncharacteristic directness. "If something as simple as a bicycle can let a girl move as fast as a slayer…if a guy in a factory can climb into an exo-suit and it makes him as strong as a slayer…doesn't that mean that in order for what we do—what we are—to matter, then there has to be more to it? Being a slayer has to mean more than just the physical. It has to reach into the very heart of things. And I'm not so sure that wrapping ourselves up in a metal shell doesn't serve to cut us off from that heart."
Cut To:
Ext.
Anomalous Zone – Mist Ring – Later
Lightning flashed.
The water on Livia's face could have been from tears of pain, or it could have been from errant drops of rain fallen from the overcast sky. For a moment, it was quiet. There was no movement in the mist. Even the sound of the rain itself softened.
"Damn!" came Livia's voice into the quiet.
Then she growled. "Godammit, I'm not going to lose. Not now. Not like this. I am not going to lose! You hear me, Dixon!"
Livia opened her eyes and yelled into the mist. "I am not gonna be beat by some stupid hunk of metal and plastic."
She triggered the release on her right shoulder, and the armor on her right arm snapped loose and fell away. For the most part. Where the armor had been burned by the explosion, it had fused to her flesh. She groaned in pain as she pulled it loose.
"Gaaah! Damn! Ahhh!" Part of her arm went with the armor, and she collapsed again. This time, there was no doubt that the water on her face was tears.
After a pause, she continued, struggling like a newborn bird escaping its birthing shell. Piece by broken piece, her angel-armor fell away. Free at last, Livia lay back and closed her eyes.
Lightning flashed, and the promise of heavier rain was kept.
Cut To:
Ext.
Desert Camp Site – Night (Flashback)
Junior slayers stood around a campfire in the desert. The sky was so clear that the stars seemed close enough to touch. An exasperated watcher was trying to get the slayers to calm down. Emphasis on trying.
A very young Livia put two fingers in her mouth and whistled. "Settle down, girls," Livia said. "I've heard stories 'bout this: It's the Hokey Pokey Ritual. You put your right foot in, you put your right foot out, and then we get to make 'Smores!"
The other slayers cheered, and the watcher shook his head and sighed. "Joke if you wish, ladies, but above all else, remember. Remember this night, this ritual, because what transpires here will stand you in good stead in your darkest hour. We aren't here for games and jokes. We stand here tonight to reach down through time to the very source of your power. It's a power that lives in each and every one of you, waiting to be called upon."
The watcher paused and met the eyes of each junior slayer as he moved around the circle. "So, laugh," he told them, "but above all else, remember. Remember…"
Cut To:
Ext.
Anomalous Zone – Mist Ring – Later
Lightning flashed.
Livia lay still for a moment as the rain washed away the blood. Then she levered herself up into a lotus position. She closed her eyes and breathed deep breaths.
Lightning flashed.
She looked up at the sky and pointed an accusing finger at it.
"You hear me, God? Or Goddess, or…or…Physics, or whoever-the-hell-whacked-out-Powers-that-Be are in charge up there? I'm not losing this, damn you! I'm a slayer, and a slayer doesn't quit. Not till she's dead. You hear me? I'm gonna finish this if it kills me, and, hell, I don't know if even that will stop me!"
Lightning flashed.
"I never let it stop me," a voice said.
When Livia looked down at where the voice was coming from, she found Buffy Summers sitting across from her. As Livia's mouth dropped open in disbelief, Buffy gave Livia a knowing smile.
Cut To:
Ext.
Anomalous Zone – Burning City – Night
Kerberos moved through the night, past flickering fires of the ruined city. The fires burned steadily, somehow never consuming their fuel. One camera panned the scene while the other stuck close to Dixon.
In the distance, the light from the Heisenberg Breach shone like a beacon. Storm clouds swirled around it, and fingers of light caressed them, lit them with eldritch fire. Dixon paused to observe the display for a moment before putting Kerberos into motion. He moved towards the light.
Behind him, unseen, small shadows skittered along his trail. Gathering. Following. Growing in numbers and daring.
Cut To:
Ext.
Anomalous Zone – Mist Ring – Resume
"Buffy Summers? Are you real?" Livia asked Buffy. They were sitting cross-legged, facing each other in the rain.
Buffy shrugged. "Could be. You're a slayer, so it probably wouldn't be the first time you've seen a ghost. Or it could be that the blow to your head has you figmenting me up. And this place? Kinda makes it hard to tell the difference between reality and myth anyway. If I were you, I wouldn't worry too much about it. You've got a job to do and times a-wasting."
"Yeah. About that? I'm kinda wondering how I'm gonna pull that off. What with an arm that's barely working and no backup in sight."
Buffy sighed. "And there you were, not a minute ago, yelling your defiance at the Powers. Where's that, I'm-gonna-finish-this-if-it-kills-me attitude?"
"Waiting for backup. Talk's cheap, Blondie, but it doesn't get the job done. Whatchya got that I can actually use?" Livia shot back.
Buffy laughed. "Well, that's the slayer attitude at least. As for backup, I'm gonna let you in on a little secret that took me years to learn." She looked directly into Livia's eyes. "A slayer is never alone. Never. Even when your back is up against the wall and there's no one else around, you are not alone. Because at your back there is an army of your fallen sisters, each and every one willing to lend you her strength."
Lightning flashed, and in that lightning-flash moment, the clearing was filled with slayers, each one with a look of steel determination in her eyes.
Then, they were gone, and the clearing was still. Even the thunder died.
Livia stood stretching her neck and back as she did so. With a cold fire in her eyes, she clenched her fists and flexed her arms, all wounds seemingly forgotten. Then she set off in the direction Dixon had previously gone.
Fade Out.
Fade In:
Int.
WorldNet News Tent – Later
Lisa Lance directed her attention to Eris Pantelles who sat in the chair next to her.
"With the goal finally in sight, Ms. Pantelles, how do you feel?" Lance asked. "You've always presented a public face of absolute confidence in both the rightness and the inevitability of a Hubris victory. Now that it seems that a new era is at hand, can you tell us how you feel? Not Eris Pantelles, public face for Hubris, Inc., but Eris Pantelles, private citizen, who has devoted a large part of her life towards bringing about a much needed change?"
"If you must know, it's rather humbling," Eris answered with a small smile.
Cut To:
Ext.
Council Command Center Tent – Same Time
"Chairman Giles! Chairman Giles! Any comments?"
A small group of reporters jostled among themselves, almost fighting for the chance to elicit a response from the beleaguered watcher who, along with Jocasta and Katherine, was making haste towards the Council transport craft.
"Why are you heading to the rendezvous point when it's clear that your slayer has no chance of making it to the breach?" asked one particularly aggressive individual.
Katherine's hand on the reporter's arm was all that stopped him from blocking Giles's path. The reporter gave Katherine a weak grin and stepped back, but not before asking one last question. "Do you have any plans to send a rescue team in after her, or is she being written off as lost?"
Giles stopped on the threshold of the transport. He turned and looked at the group of reporters with a look of unexpected confidence.
"If my years as a watcher have taught me anything, it's that only fools write slayers off as lost."
Giles and Jocasta and Katherine entered the transport and shut the doors. As the transport lifted into the sky, one of the reporters asked, "Did he just call us fools?"
Cut To:
Ext.
Anomalous Zone – Burning City – Later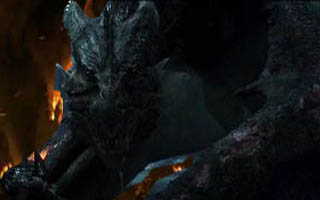 There was snarling, growling, and hideous laughter as a pack of were-hyenas, some on four feet, some on two, surrounded their prey: the slayer.
The largest moved in for the kill, only to be slammed back by a hammer-like blow which snapped its neck in an instant.
The rest of the pack didn't even have time to hesitate as the slayer moved among them, turning the hunters themselves into prey.
Cut To:
Ext.
Anomalous Zone – Burning City – Later
"I don't have time for this, guys," Dixon told the horde of gremlins which had cornered against a ruined building. "Places to go, portals to jump through, you know the drill."
Two of the larger ones skittered closer. Kerberos's wrist gun turned one of them to mist. "See, this is what I'm talking about. I may be outnumbered, but you're definitely outgunned." His wrist gun spoke again, and the other gremlin likewise disintegrated.
Four more took their place.
One of the remaining hover-cams flew over the gremlins, positioning itself for the best shot. Suddenly, one of the larger gremlins bounced into the air beneath the camera, opening its mouth impossibly wide. The hover-cam disappeared down its throat to the accompaniment of metallic chewing sounds followed by a very loud, very rude, belch.
Dixon sighed and began firing into the horde.
Smash Cut To:
Int.
WorldNet News Network Control Center, New York – Same Time
"Oh, my god! This is horrible! It's a disaster!" the director cried, pulling at what little hair he had on his head. "We're down to one freakin' camera! Whatever the hell you do, do not let anything happen to the last camera! Heads will roll!"
Cut To:
Ext.
Anomalous Zone – Burning City – Later
Being one with his armor, Dixon screamed as supernaturally sharp claws and teeth cut into Kerberos's metallic flesh. He shook off half a dozen gremlins only to see a dozen more take their place. He frantically waved his arms and legs, but it was all in vain. The gremlins were into him like a mob of piranhas.
Whack!
The sound of metal shredding was replaced by the sound of metal on metal. A pair of gremlins fell away.
Whack!
A few others fell away. Relieved of a handful of attackers, Dixon turned around.
Livia stood before him—mud on her face, blood on her hands, and fire in her eyes.
Cut To:
Int.
Watchers Council – Slayer Rec Room – Same Time
"She's back!" the slayers crowed in excitement when they saw Livia on the screen.
They started dancing and high-fiveing.
Cut To:
Int.
WorldNet News Tent – Same Time
"What?!" Lisa Lance said in alarm, holding her hand to her ear piece as if she wasn't believing what she was hearing.
"What is it?" Eris asked, concerned.
"Hansen's back," Lance replied incredulously.
"Impossible!" Eris cried.
Both women directed their attention to the monitors. Then Eris abruptly left.
Cut To:
Ext.
Anomalous Zone – Burning City – Resume
Livia whirled a scavenged metal bar like a staff and grinned, striking another pair of gremlins from Dixon's armor.
"Damn, Dix, we've gotta stop meeting like this," Livia said. "People are gonna talk." Livia turned to smack the gang of gremlins who were now attacking her directly.
Dixon opened his mouth to speak, but then closed it again as if he just couldn't seem to find words appropriate to the situation. Then he came out of his shock and shot a few more gremlins.
After a bit, his face brightened, and he yelled to Livia, "Ditched the suit, huh?"
"Yep," Livia answered as the gremlins kept coming. "Damn, how many of these things are out there?"
"Too many," Dixon answered, firing again. "I'm almost out of ammo. We won't be able to last much longer."
"Hey, it ain't over till it's over," Livia said. "Don't be giving up yet."
"I'm not…it's just—"
Suddenly, the gremlins stopped attacking and froze in place. After a moment's pause, they instantly turned and ran. Livia and Dixon grinned as they watched the gremlins retreat.
"Ha!" Livia taunted. "Take that you little…"
Livia stopped when she heard the sound. The sound of huge wings flapping, the sound of a massive body thundering to the ground and crushing concrete beneath its feet, the sound of a shrieking roar.
Livia and Dixon met each other's eyes, then turned around slowly. They looked up.
And up.
And up.
It rose on leathered wings, the embodiment myth and magic, fire and rage. The dead-leaves-rustling of its scales was enough to set hair on edge, and it spoke flame.
Dragon…Drake…Wyrm…DEATH.
"Holy Sh—" said Livia and Dixon simultaneously.
Cut To:
Int.
Watchers Council – Slayer Rec Room – Same Time
"—Sheena, Queen of the Jungle!" Bunni swore.
"Oh…my…god…" Brianna said.
"Damn," Mira added. "That's one big—"
Cut To:
Ext.
Anomalous Zone – Burning City – Resume
"Son of a bitch!" Livia swore as a stream of fire roared towards her and Dixon.
The flame blasted between them, separating them. Kerberos's shoulder cannon fired, and the dragon jerked as the last of Dixon's missiles exploded against its scales.
Livia leapt into the air, impossibly high, and her metal staff struck the dragon squarely in the eye.
That pissed it off. It buffeted Livia away with a flap of its wings, then sent Dixon fleeing a gout of flame.
Cut To:
Int.
Imperial Palace Casino, Las Vegas – Later
"Now, there's no way you're going to convince me that that isn't fake. Hell, Bob, I killed that thing myself in the 'Night of the Dragon' video game!"
"That's because they modeled the one in the game after a real dragon. Remember? The one that downed flight 378 out of Dallas? They have the damned thing stuffed and mounted in the Council museum in Cleveland."
"Oh. Yeah, now I remember. Hey, don't you think the slayer chick looks hotter in that skin-tight leather than she did in that armored suit she was in?"
"Ab-so-freakin'-lutely. Hey, Jake, more beer! And refill the pretzel bowl while you're at it."
Fade In:
Ext.
Anomalous Zone – Burning City – Later
"Why the hell is it just…watching us like that?" Dixon whispered as he peeled off the mangled remains of his helmet.
There was blood on his forehead and hints of panic in his eyes. Sparks snap-crackled along the back of his armor where the quantum stabilizer was now no more than a ruined mass of melted metal and plastic.
"Think cat," Livia said pointing her thumb at the dragon. "Think mice," she added, repeating the gesture at herself and Dixon, observing the beast's reaction to the movement.
"Think, 'we are screwed'," Dix replied.
"Already there," she shot back. "I'm not going out without a fight, though. The damned thing wants us to run." She looked thoughtful for a moment. "Maybe we can use that. We're gonna have to make a run for it," she told Dixon.
"I thought you said that it wants us to run. If we run, it chases, and then it gets lunch—nice and hot, right off the grill. Not the way I want my day to end. Not the way I want my life to end."
"Don't worry, Dix. It can only be in one place at one time." Livia sighed as a look of resolve came over her. "I think I knew it would come to this. That damned synthetic of James's jinxed me," she muttered.
Off his puzzled look, she continued. "Never mind, it's not important now. Here's what we're going to do. I'm gonna to make a dash for that wall.' She glanced that way, pointing with her eyes to avoid drawing the dragon's attention.
The wall was low, brick, and broken. Like the rest of the city, sections of it were burning with an undying fire which, fueled by the unstable energies of the Heisenberg Breach, never consumed its target.
It was also on the other side of the creature. The side opposite the breach.
"Are you nuts?!" Dixon exploded. "I know you're a slayer, and this place is pumping you up like you're…on some type of slayer-steroids or something, but we've seen how that thing moves." He shook his head. "We've both hit it with everything we've got, and it's still going strong." He shook his head again. "You're planning a suicide mission," he accused.
"I'm doing my job," Livia answered, simply. "That's primary. And saving people like you from things like that?" She tossed her head in the creature's direction, "That's just what slayers do."
"You'll lose," Dixon replied. "You'll lose and I'll win." He seemed almost puzzled at her decision. "The Council will lose and Hubris will win. I don't—"
Livia interrupted. "Yeah, I know you don't get it. Jo always said that you couldn't lose to save your life. But you don't understand: Hubris can't win."
She looked at him with quiet intensity. "Here's the thing, Dix. The only way I can lose is to turn my back on what it means to be a slayer. It's that simple. So what if Hubris wins the contract? Big flippin' deal! That just means that there'll be a bunch of you guys running around in fancy tin suits helping us do our job. Because, no matter how this goes down, no matter which one of us wins this stupid contest, I'll still be a slayer. Mira and Katie will still be slayers. And Giles and Jo will still be watchers, and they'll find a way to keep fightin' the fight."
"And maybe it's better this way," Livia continued. "Maybe it's better if the Council doesn't have the power to order around whole nations. 'Cause somewhere along the line it became all about the power. About getting' it, about keeping it. That's what happened to Tyrell and his High Command cronies. The power became their mission. And if you think that your bosses at Hubris are any different…" She trailed off, and silence lay between them for a moment.
When Dixon didn't speak up, Livia went on. "When you get back, you're going to have to make some tough choices 'cause you're gonna be in the same place we've been: trying to do the right thing while the people at the top are only worried about grabbing the power. You're not a dumb guy, Dix. You have to have some inkling of what kind of people are in charge at Hubris. And—"
Beep.
Livia frowned, before continuing. "Me and my girls, we've had a look at Hubris's true face, and—"
Beep.
"What the—? Dixon Osbourne, are you beeping at me? What did you do?" Livia paused. It was clear from the look on her face that she knew the answer. "God, Dix, why?" Livia asked. "What the hell do you think you're doing?"
Beep.
Dixon gave a half-laugh. "Proving Jo wrong," he replied. "I can too lose, and I'm going to lose if it kills me." There appeared to be a slight edge of hysteria in his voice.
Then, all was calm. His face held the same resolve that Livia's had earlier. "Don't…don't tell her that, okay? Tell her…tell her and Katie to have long and happy lives, and if they want to name a kid after me, I'd be honored."
Beep.
"Dammit, you competitive bastard! This isn't about you losing. This is you trying to keep me from winning! This…God! This is nuts. Turn the damned thing off, Dix. We'll both make a run for the breach. Maybe we'll get lucky."
"Sorry, Liv. No can do," Dixon answered. "Hubris, Inc. is kinda jealous of their intellectual properties. Once the self-destruct sequence is triggered, it can't be shut down. So, you have less than five minutes to get through the breach and away from here, or we both lose. That'd be a damned waste."
Beep.
"Dix—"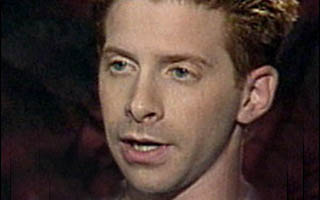 He shook his head. "You're right about Hubris. If they get the power, they're not letting it go. And they probably won't stop with the Human Defense Treaty contract. I don't know if the Council will do any better. We both know that their track record is spotty at best. But I do know you, and I know Jo, and I know Chairman Giles. I know that at least you guys will try to avoid the temptation. That's more than I can say for Eris Pantelles. So, it's not really about winning or losing; it's about doing the right thing. Slayers aren't the only ones with a duty, Livia. So get the hell out of here and let me have my moment, okay?"
Beep.
Livia looked at Dixon, frowning intently. Then she simply slugged him. He dropped to the ground.
"Men," Livia muttered under her breath. She flipped him over. "You were carrying a bomb in this thing the whole time, and the only way you can think of using it is by blowing yourself up? I oughta…" She sighed and knelt beside his prostrate form. Closing her eyes, she muttered, "Katie, I hope you were right…"
Cut To:
Int.
Katherine's Quarters – Day (Flashback)
"I saw a guy do this at a party once," Livia was saying. "But it turned out that the coin wasn't under any of the shells. He wound up pulling it out of a woman's ear." She reached up and touched her ears. "Yeah, that'd be too easy." She grinned at Katherine, who shook her head in exasperation.
"Pay attention," Katherine ordered. "This is serious! I know it may not seem like it, but this is the type of thing that can make all the difference in the world. Being able to sense things is an ability every slayer has. You just have to reach out and open yourself to the possibility. You already know where it is; you just have to recognize that knowledge."
"Is this more of the 'knowing of things' stuff? 'Cause you already got me with that once."
"No, Livia, no kidding this time. No tricks. And nothing that you haven't done a million times before."
"Vampires and demons, yeah, I get that. But this is just a coin."
"Fine, just pretend it's a demon coin! Just focus, dammit!"
Livia closed her eyes and held her hand out over the shells…
Cut To:
Ext.
Anomalous Zone – Burning City – Resume
…Livia plunged her hand into the ruins of Dixon's suit.
"Gotchya, you S.O.B!"
She pulled her hand back out and was clutching a fist-sized, spherical object that was beeping at a much faster rate than it had been before.
"Yes! Katie, girl, I owe you the best dinner a slayer ever had."
The remaining hover-cam fluttered by, and Livia grabbed it.
"Okay, I don't know if you're running on autopilot or if there's a cameraman running the show," Livia told the hover-cam, "but by the power vested in me by the Council of Watchers, you are now officially deputized."
Livia tied the wires dangling from the bomb to the hover-cam, drew back, and threw the camera with all of her might.
Cut To:
Int.
Imperial Casino, Las Vegas – Same Time
Fake or not, Charlie and Bob were entranced as they watched with rapt attention. They weren't even looking at the betting ticker.
Cut To:
Int.
Watchers Council – Slayer Rec Room – Same Time
The slayers held their breaths and leaned towards the screen.
Cut To:
Ext.
Anomalous Zone – Burning City – Same Time (close-up, on-screen)
The dragon was seen from the point of view of the hover-cam as it hurtled toward the dragon's head.
It saw a gaping maw, widening. A flash of wicked teeth. A hint of flame.
Chomp!
Darkness.
One brief nanosecond of blinding light.
Then the signal went dead.
Fade Out.
Fade In:
Int.
WorldNet News Tent – Night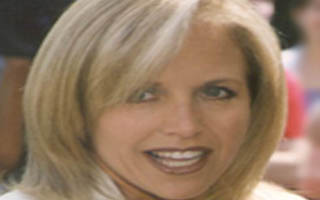 Lisa Lance smiled for the camera.
"And word has just been received that the Council's code has been confirmed to match the monitoring unit brought through the Breach by Slayer Hansen. The contest has been awarded to the Watchers Council."
Lance shifted to face the second camera. "While this doesn't completely guarantee that the Human Defense Treaty will remain in the hands of the Council, most of our political pundits agree that it is little more than a formality."
The camera moved in for a close-up. "And this humble reporter finds this to be no surprise. While I'll admit that my strict journalistic impartiality did cause me to appear at one point to call the contest in the favor of Hubris, Inc., in truth, there was never any doubt in my mind that the Council would eventually triumph."
Lance leaned forward as if imparting great wisdom to her viewers. "If my years as a reporter have taught me one thing, it's that only fools write slayers off as lost."
Fade Out
End of Hammer

Next on Watchers: Restoration