Act 6

Cut To:
Int.
Watchers Council – VIP Quarters – Later That Morning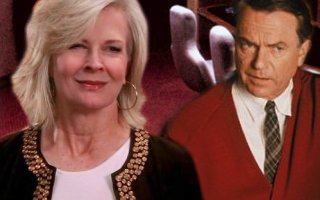 "I can't believe that we're going to stay here and simply allow these accusations to be flung around," Oliver fumed. He was pacing the Council's VIP quarters. The room was larger than most of the others around the complex, but lacked the personalized touches. Anita was sitting on the end of her sofa, listening to Oliver's tirade.
"We just need to show them that their accusations are unjustified," she said calmly.
"They know their accusations are unjustified," Oliver shot back. "All they want is to take away our dignity, and you're letting them!"
"No, Oliver," Anita said, her voice level, "you are letting them. Look at the two of us in this room, and tell me who is losing their dignity."
He lowered his voice. "I could get us out of here, you know. We wolves have our ways."
"You will do no such thing!" Anita ordered. "We are going to stay here and fully cooperate with the Council's tests. Anyone who doesn't is going to have to answer to me."
Oliver did not look happy. The two werewolves had a staring match for a few seconds, and then Oliver walked out of the room, slamming the door behind him.
Cut To:
Int.
Watchers Council – Lobby – Same Time
As the elevator slowed to a stop, Antonia brushed back the tears from her face and combed unnecessarily through her hair. She glanced at her reflection in the mirrored surface of the elevator door and groaned at herself.
"Damn it," she growled in frustration as the doors opened and the cluster of people waiting outside the elevator gave her a strange look. "Great."
Fishing out her personal phone from her pocket, she slipped through the crowd that was in line waiting to be tested. She punched in a number and waited, tapping her foot impatiently as the call went through.
"Hey, it's me," she said in a small voice as she turned away from the nosy onlookers. "I…I really need to talk. Can you meet me?"
She listened for a moment, gave a small smile, and hung up. She headed for the Council's front entrance, flashed her bracelet at the armed slayers, and exited.
Fade In:
Int.
Watchers Council – Guest Quarters – Later That Morning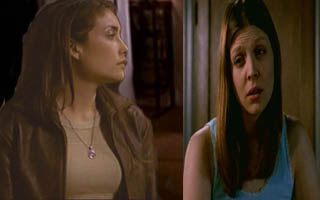 Katherine had just gotten dressed and had come out of the bedroom when she heard a knock at the door. She approached cautiously and called out through the door, "Who is it?"
"It's Mira," came the voice from the hallway.
Katherine smiled and opened the door. But then her smile faded, and she hesitated at inviting the slayer in. Mira noticed Katherine's reaction and immediately held up her arm to show her the neon bracelet around her wrist.
"You can invite me in," Mira assured her. "I passed."
Katherine's smile returned, but she shook her head, a little embarrassed at her own over-cautious behavior. "Come on in," she told Mira, who did just that. "Sorry about…it's just…"
Mira raised her hands. "Oh, don't apologize. I get it. If I'd been through what you had, I'd be checking too." Mira looked at Katherine closely. "So, how ya holding up?"
Katherine shrugged. "I'm okay. Still a little shell-shocked, I think."
"Guess so," Mira said, tucking her hands in her pockets. "I'm sorry about what happened, and about Brianna. I know she was your friend."
"Yeah, me too." After a moment's silence, Katherine cleared her throat and invited Mira to the table near the kitchenette. "You want some coffee? I just made some."
"Yeah, sure."
Katherine filled two cups and joined Mira at the table. Mira took her cup and simply held it between her palms. Katherine sipped her coffee and watched Mira stare into hers. "Is there something you want to talk about?" she asked.
"Yes," Mira said. "I mean, no. I mean, I don't want to bother you by talking about my personal problems. I just came by to see how you were doing, not talk your ear off about –"
"Livia?"
Mira sighed. "Yeah."
Katherine reached across the table and touched Mira's arm. "I'm ready to listen if you're ready to talk."
Mira nodded and took a deep breath. "Okay, here goes. Something happened in Orlando, between me and Livia. After I got skewered by that dino-demon, I kinda passed out, and when I came to, Livia was kissing me." Mira stopped and held up her hand. "And before you ask, no, it was not mouth-to-mouth resuscitation."
Mira stared hard at Katherine, expecting some kind of smart remark, but Katherine showed no change in expression. She merely looked on with curious attentiveness. Mira didn't quite know what to make of that, so she just went on with her story.
"It was a kiss – a real kiss – and she followed it up by telling me that she loved me! But…she only did it 'cause she thought I was out, but when she realized I wasn't and that I'd heard everything, she shut down and pulled away. And she hasn't said a single word to me since." Mira let out a scoffing huff. "Can you believe that?"
Katherine ignored Mira's question and asked one of her own. "How did that make you feel…what Livia did, what she said?"
"I was shocked, I was freaking out!" Mira replied, exasperated. "I mean, she's supposed to be my best friend, and she just dumps this on me, out of the blue?"
"So, you're feeling…betrayed?"
"Yes!" Mira said, jumping to her feet and pointing emphatically. "Betrayed. That's it. How could she keep this from me? This didn't happen overnight, how she feels about me, but she never says a thing? And then, after Orlando, she practically writes me off, doesn't even come see me."
"Maybe she was afraid."
"Of what?!"
"That she'd lose you as a friend?"
Mira scoffed once again, then realization hit her. "Crap," she said as she plopped back into her chair. She stared at her hands for a long moment before finally looking up at Katherine. "I only asked for a new partner because I needed some time to think things through. I never meant for it to be permanent."
"I know," Katherine said. "But Livia doesn't. As far as she knows, you hate her guts for what she did."
"I don't hate her, I could never hate her."
"But Livia doesn't know that."
"You're saying I should talk to her? Even when I don't know what the hell I'm feeling or what I'm gonna do?"
Katherine reached out for Mira's arm and clasped it tightly. "With this job, we never know what day is going to be our last. We don't have the luxury of time on our side. Please don't leave things bad between you and Livia, no matter what you decide to do."
Mira returned Katherine's gaze for a time, then looked away without answering her plea.
Cut To:
Int.
Watchers Council – Lobby Testing Station – Same Time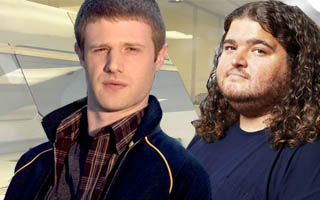 Mitchell stood nervously in front of another minion of Cassandra's as they waited in line to be tested. The chubby Vault employee wrung his hands together and looked around the room.
"How do we know this spell of hers is going to work?" Mitchell whispered to his much calmer comrade.
The redheaded young man rolled his eyes and sighed. "It's going to work."
"I don't know, man. Look around you. Slayers and guards everywhere." He began to eye the exit. "We're dust."
"Don't even think about it," the other man warned as they moved up in line.
Mitchell's hands started to shake as the person two spots in front of him was cleared. "I can't do this," he whispered urgently over his shoulder.
"Don't do something stupid," the man whispered back. But he was too late. Before the words had even left his mouth, Mitchell was making a run for it, taking off to the nearest exit and trying to knock over two slayers in the process.
The slayers immediately reacted to his flight and knocked him backwards, causing him to vamp out. The slayer nearest to him kicked him the gut while the other powered up her stunner glove and touched it to his back. Mitchell screamed and convulsed as the powerful current entered his body. Within seconds, he was unconscious on the floor. The crowd waiting in line looked on in shock.
The redheaded minion shook his head and looked at the woman behind him in line. "Man, I never would have suspected Mitchell."
"Me either," the woman agreed.
"I guess you never know, huh?" the young man said. The woman nodded her agreement as the tester called for the next in line.
The redhead stepped forward and placed his hand on the scanner. When it presented normal readings, he posed for the mirror, smiling pleasantly.
"All right," the tester told him, "you're cleared."
In less than a minute, he was walking confidently away from the station, gazing at his bracelet, with a smug smile spreading across his face.
Cut To:
Int.
Watchers Council – Guest Quarters – Moments Later
Katherine and Mira had just stood up from the table and were heading for the door when Katherine's phone rang.
"Hello?" she answered. She listened a moment and then said, "Really? I-I-I'll be right there."
"What is it?" Mira asked when Katherine hung up.
"They caught a vampire, with the testing," she said. "They've got him in detention."
"Let's go," Mira said.
Cut To:
Int.
Watchers Council – Outside Detention Cell – Afternoon
When Mira and Katherine arrived at the interrogation room, Jocasta was waiting outside, watching through the mirrored window. Jocasta greeted the two women but quickly turned her attention back to the interrogation. Her face was hard as she clenched her fists over and over. Katherine looked at Jocasta with concern in her eyes.
Through the window, they saw Velika and Livia questioning Mitchell. Velika was seated in front of the vampire, and Livia was standing nearby. It was clear from the condition of Mitchell's face that Livia had already roughed him up a bit. As they listened through the speaker, they heard Velika ask him a question; he defiantly refused to answer. Livia moved in to smack him, but Velika stopped her from going further. Then the two of them left the cell.
When they came out, Velika gave a nod of acknowledgement to all three. Livia did the same, but barely met Mira's eyes, even though she was right next to her. After a seemingly endless moment of awkward silence, Mira finally spoke.
"Hey," she said.
"Hey," Livia replied.
The two slayers then fell to fidgeting, but luckily for them both, the conversation soon returned to the captive vampire.
"We're not having much luck," Velika told Jocasta. "I think he's more scared of this 'Mama Cass' than he is of us."
"Let me have a go," Jocasta said.
"Be my guest," Velika said.
"I'll go with you," Livia offered.
Jocasta raised a hand to stop the slayer. "Thanks, but I can handle him." Jocasta picked up a bag that had been sitting at her feet and then turned to Velika. "He's not human, so the usual protections don't apply, right?"
Velika got a worried look but nodded in affirmation. When Jocasta started to go inside the cell, Katherine reached out for her.
"Jo, I don't want you going in there alone," the blonde slayer said, frowning unhappily.
Jocasta smiled and touched Katherine's cheek with her free hand. "I'll be fine, sweetie," she said. "I promise."
Jocasta kissed Katherine warmly then went inside the cell. Katherine's frown still remained.
Cut To:
Int.
Watchers Council – Inside Detention Cell – Moments Later
Mitchell was wiping some blood from his mouth when Jocasta entered. A measure of fear was in his eyes, but he pulled his shoulders back in a brave gesture. He snorted derisively when Jocasta set her bag on the table.
"And playing the role of 'good cop' today is Colonel Rosenberg," he said in a shaky but sarcastic voice. "Bet you think you're gonna 'make it happen', don't you?"
Jocasta merely chuckled as she looked down to unlatch her bag. "You've got it all wrong," she said before looking back up and smiling unnervingly at Mitchell. "I'm definitely the bad cop."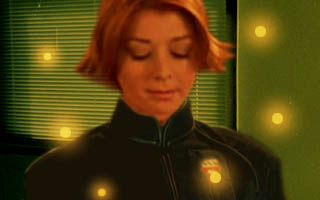 With just a nod of her head, she magically yanked Mitchell out of his chair and slammed him against the wall, pinning him in place with his arms and legs spread. As he struggled uselessly against the invisible bonds holding him, Jocasta calmly circled around the table.
"You know, I learned a new trick a few months ago," she said. "Haven't ever used it before. Didn't think I'd ever have the chance really. But this seems like the perfect opportunity." She reached across the table and opened her bag.
Immediately, a swarm of glowing lights emerged, hovering angrily above the bag. When Jocasta cocked her head, the swarm flew over to Mitchell and attacked his body, burning him wherever they touched. The vampire screamed in agony.
Cut To:
Int.
Watchers Council – Outside Detention Cell – Same Time
"Holy sh –" Livia said as she headed for the cell door. Velika reached out and stopped her from going in.
Katherine's hand went to her mouth as she watched in horror what was happening in the cell. Mira moved closer and put a comforting hand on the blonde's shoulder.
Cut To:
Int.
Watchers Council – Inside Detention Cell – Same Time
Jocasta's narrowed eyes glowed faintly red as she continued to let the lightning bugs burn Mitchell. With a wave of her hand, she pulled the glowing lights back. They hovered menacingly behind her as she approached Mitchell. She waved her hand again, and the vampire fell to the floor, whimpering in pain. She knelt beside him and looked straight in his eyes.
"We've got questions, and you better answer them," she told him. "Otherwise, you got a lot more pain ahead of you."
Mitchell looked nervously at the swarm behind Jocasta then growled and shook his head. Jocasta surprised him by grabbing him by the shirt and pulling him close until they were nose to nose.
"Talk, or I swear to god I'm gonna lock you in a box with my little lightning bugs for the next ten years!" she threatened.
Shaking, he looked at Jocasta and then the angry swarm. He held up his hands in surrender. "Okay, okay," he said.
Jocasta smiled.
Cut To:
Int.
Watchers Council – Inside Detention Cell – A Short Time Later
Mitchell was back in his chair at the table with Velika and Livia seated in front of him. Jocasta stood nearby, still glaring. Katherine and Mira had joined them inside.
"I've told you where to find her," Mitchell whined as he gingerly but compulsively touched the burns on his arms. "What else do you need to know?"
"How about the rest of her name? Cassandra what?" Livia demanded.
"Cassandra…that's all I know, I swear!"
"What is she up to?" Velika asked. "What does she want?"
"Look, I wasn't exactly part of her inner circle," he said.
Jocasta gave a big harrumph. "Like that's a shocker."
"Not that she really had one," Mitchell went on, ignoring Jocasta's remark. "She kept to herself. All I know is what she said in her little pep talks."
"Which was…?" Mira prompted pointedly.
"She said she was going to bring down the Council and change the world, make it a Garden of Eden for demons."
"Yeah, we figured that," Livia said snidely. "How exactly is she going to do it?"
Mitchell shrugged. "I don't know."
Jocasta grumbled impatiently and turned away from Mitchell to address Velika and the others. "Look, Katie and I'll research this 'Cassandra' person. You keep questioning him and hit the lair. Let me know what you find out." At that, Jocasta stomped out of the cell with Katherine on her heels.
Livia cocked her thumb over her shoulder and looked at Velika. "Who died and made her the boss of everybody?"
"She's always been like that," Mitchell interjected. "Just not as scary."
Livia shot a shut-up glare at Mitchell before turning back to Velika.
"Just do what she says, Livia," the commander told her wearily, "and get a strike team together."
"I'm on it," Livia said before heading for the door.
Mira watched her go, glanced at Velika for a moment, then followed.
Cut To:
Int.
Watchers Council – Outside Detention Cell – Seconds Later
Livia had gotten only a few yards away before she realized Mira was right behind her. She didn't shorten her stride.
"You don't have to come," Livia said over her shoulder.
"You're shorthanded," Mira answered, catching up to walk right beside Livia. "You're gonna need every slayer you can get."
Livia met Mira's eyes for a moment before facing forward once again. "Fine," she said with a tiny bit of testiness in her voice.
"Good," Mira shot back in a similar tone.
They let out twin huffs and kept walking.
Cut To:
Int.
Cleveland Coffee Shop – A Short Time Later
"Thanks for meeting me," Antonia said as she leaned down and gave her father a kiss on the cheek. When she sat down, her father pushed a hot cup of coffee her way.
"Low fat, just the way you like it," her father replied as he gave her a wink. "So your message sounded urgent. Is everything okay? Jo doing okay?"
Antonia nodded as she took a sip of her coffee. "Yes, Jo is fine," she replied as she cupped her hands tightly around the cup in front of her. "I called because…well it's about…me. Me and Lex sort of…actually."
"Had a fight?" her father asked.
Antonia let out a sigh and shrugged. "Not exactly." She stopped and watched the people at the counter get their coffee.
"Toni," her father called out to her, bringing the pilot's attention back to their conversation. "What happened with you and Lex?"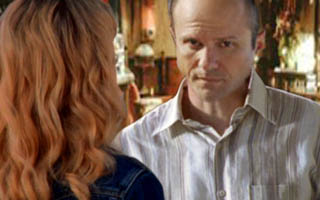 "It's stupid really," she started, keeping her focus on her cup. "We went out with some friends, a-a-and they asked when we might get married."
"Have you two talked about it?" he asked.
She shook her head no. "I mean we've been so busy, and it's still so new and…" She stopped as she felt tears starting to fall. "He almost died, twice," she whispered, finally looking at her father. Before he could say anything, she started speaking again. "Our line of work, it's dangerous, and what if we got married and had kids? What if one day he goes on an assignment and doesn't come back? Or I don't? What kind of security is that? I've seen my friends die doing this work. But if Lex died, I don't know how I would…"
Antonia's father leaned over and gave his daughter's hand a tight reassuring squeeze. "Want some fatherly advice?" She quickly nodded. "I don't claim this wisdom as my own," he started with a gentle smile, "but life is short."
"So 'seize the day'. Right, Dad?" she replied sarcastically.
"Basically…yes. The point is, honey, this man has almost died twice, and he's still here. That has to say something to you."
"Yeah, that he's stubborn," Antonia stated.
Her father shook his head. "No, that he has something here worth fighting for."
Antonia didn't reply. She sipped her coffee and let her father's words sink in.
Her reverie was interrupted when her comm link went off. She shot her father an apologetic look and then answered.
"Allister," she said. She listened a moment then said, "I'll be right there." She got to her feet and prepared to leave. "Gotta go. Duty calls."
Her father stood and gave her a warm hug. "Be careful," he told her.
"I will," she promised before rushing off.
Cut To:
Ext.
Mansion – Later
"This is the place?" Lian asked in disbelief as she stepped out of the Council transport, followed closely by Livia and Mira, ten other slayers, and Antonia. They all gaped at the huge mansion.
"That's what the vamp said," Mira replied.
"And we can trust him?" Damesha asked.
"After what Jo put him through, I'm thinking yes," Mira said.
"All right, let's go then," Livia ordered, sending the group of heavily-armed slayers up the driveway to the enormous front door of Cassandra's mansion. She turned to Antonia. "Keep her running, in case we need to get out of here in a hurry."
Antonia gave her a small salute, then went back inside the transport. Livia ran to join her squad.
Cut To:
Int.
Mansion – The Ballroom – Moments Later
The house had been eerily quiet as the team of slayers had searched the premises and found it deserted. They ended up back in the ballroom, which had apparently served as Cassandra's center of operations.
"Look at this mess," Monique said as she picked up the remains of a keyboard from an expansive table filled with similarly demolished computer equipment. "Looks like someone took a hammer to it."
Livia activated her comm link and called the computer center. "Hey, it's Livia," she said when James answered. "I have some computer equipment for you to resurrect."
"Resurrect?" came the confused voice over the link.
Cut To:
Int.
Watchers Council – Computer Center – Later
James's head popped up from behind the pile of computer parts that lay on the table in front of him. His gaze was incredulous as he scanned the heap. Lex merely circled the table looking stunned.
"I'm thinking 'resurrect' is an understatement," James commented as John joined them in the computer center.
John immediately stopped in place as he took in the disarray of computer parts before him. "What did they do…drop a mini Color Bomb on it?" he asked as he moved to the table and picked up various pieces of the wreckage.
Lex shook his head and let out a laugh. "Well, boys," he said, smacking his hands together sharply. "The challenge is on."
James nodded in agreement as he started to sift through the mess. "Let's start sorting similar pieces together, then maybe we can figure out what goes where."
"All right," Lex said, joining James in the search.
"We don't have a lot of time," John pointed out to them.
"Then we'd better hope someone forgot to smash something," James said.
Cut To:
Int.
Watchers Council – Giles's Office – Later
"I don't think that's a very good idea," Giles told Veronica.
"Why? Because it's Sean?" she challenged.
"No," Giles said firmly. "Because it's not safe. This-this Cassandra person has clearly targeted Watchers personnel, both on and off site. As far as we know, she may still be doing so."
"Sean may have valuable information pertaining to this woman," Veronica said. "He has contacts that we know nothing about. It's worth investigating."
Giles stared hard at Veronica for a long moment, but she never faltered. He looked away and sighed. "Very well," he said. "But I'm sending an armed escort with you."
Veronica smiled and gave Giles's hand a squeeze. "I'll be back before you know it."
Fade Out.
Fade In:
Int.
Warehouse – Late Afternoon
Cassandra stood in the center of a warehouse that had been converted into her new headquarters. A large number of minions, mostly turned slayers, were gathered in a semicircle around her.
"Everything is going exactly as planned," she announced. "We're now ready for the next stage in the process."
Cassandra activated a remote in her hand, causing an image to appear on a projection screen behind her. It showed the main entrance to the high security Special Detention Facility of the Watchers Council.
"This facility contains those whom the Council has deemed especially dangerous: demon lords, sorcerers, mages, and more. We shall free them," she announced. "Those who are willing to join my cause, of course. And they will all be willing."
"How do you know?" one minion dared to ask. "What if they don't want to join?"
"They will be given a very simple choice: join me or die."
"Oh."
"When our numbers are enough, the next phase will begin," Cassandra said. "Together, we shall change the world…"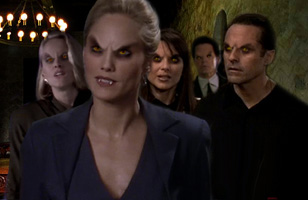 The minions began murmuring in agreement.
"We shall cripple the Council, crush it under our feet…"
The minions let out a cheer.
"No more running from slayers, no more pointless battles…"
This time the group issued an excited roar. But when their cheers died down, they found Cassandra curiously silent. She stared off into space, lost in thought, her face unreadable. None of the minions dared to interrupt; they simply shuffled awkwardly in place and waited.
They didn't have to wait long. Within moments, Cassandra snapped back to reality. She stared at her army with cold, empty eyes. "Get ready," she told them. "It's time to build up the ranks."
Fade Out
End of Act Six