Season 1 Recap
As the core group begin to set up the 'New Council,' they find themselves faced with thwarting the efforts of surviving 'Old Guard' members determined to take control. They meet a watcher named Rowena Allister, who becomes one of their greatest allies and joins their team. During their struggles to build the new Council they find themselves facing off against a seemingly unstoppable foe, The Presidium.


The first episode, "Something Ventured, Something Gained," opens with the gang buying a two-building complex from a real estate agent named Bonnie. Willow also finds out she was destined to be a watcher through a spell. In "Lake Eerie," boaters go missing on Lake Erie and the gang springs into action when they learn of a lake demon, but not before Faith's felonious past returns to haunt her. Willow, however, uses her hacker skills and a little magic to clear Faith's record. In our third episode, "Foreign Presence," Rowena Allister arrives, claiming to be a Watcher from the Old Guard, with a book called the Opus Obscuram. In "Untimely Arrivals," James Tyrell and the rest of the Old Guard arrive in Cleveland to wreak havoc with the new Watchers Council. In "Broken Allies," Tyrell and his son Jordon, a former lover of Rowena, make a final power play that threatens to split the New Council apart. Rowena is faced with a choice of who should receive the book and gives it to Giles. Giles asks her to stay on staff. On the Wiccan holiday, "Samhain," Willow contacts Anya, who says she has a urgent message about Xander growing more despondent, as Giles and Co. battle a demon set on creating a zombie army. A young slayer, Marsha, stands out from the crowd and Willow is named as her new watcher.
In "Love and War," Dawn visits the council sans Buffy, just in time to run into Ethan Rayne who's working for an organization called…well…The Organization. During her stay, Dawn bonds with a young witch in Willow's class named Jeff. In "Another Year Older," Xander returns to the Watchers Council for Willow's birthday. She finds a ritual to restore his eye, however, it involves creating sexual energy, much to Kennedy's dismay. In "Love Hurts," as Kennedy and Willow grapple with the fallout from Xander's successful spell, Andrew concocts some company in the form of a demon that only has eyes for him. But an agent of the big bad, the Presidium, kills her and takes away Willow's powers in the process. In "Dark Force Rising," Tara appears to Kennedy in a dream to help aid in the return of Willow's magical powers. The advice leads Giles to a book and a shopkeeper, Becca Montague, whom he begins dating. Anya's demonic 'Santa' and his helpers return to Cleveland in "Blue Christmas," and while Giles and Becca's relationship blooms, Willow and Kennedy's comes to an end.
In "Modus Operandi," the Council realizes there's a killer in town who actually might be very old instead of someone new – a demonic Jack the Ripper. In "Rash Decisions," Kennedy takes a walk on the wild side with a vampire that leads to unexpected consequences, while the Watcher's Council battles Sister Sin. As a blizzard strikes Cleveland, in "Family Ties," the council is besieged with family and friends seeking shelter from the storm, including Willow's parents and Brell's brother and family, who've had a close encounter with the Presidium. In "About Last Night," Willow comes 'out' to her parents as a watcher and their supernatural dealings while grappling with the after effects of a one-night stand with Kennedy. In "Restoration," the story jumps to the year 2130, with Jocasta, the descendant of Willow Rosenberg, a Colonel in the militaristic Watchers Council, reuniting with the reincarnation of Tara Maclay, a slayer. Together they try to stop an army of demons created by the Council itself with the help of the only surviving Summers family member, a woman named Aurora. In "Scarecrow," the suit of a long gone watcher/magic abuser comes back to haunt Giles and as he, Willow and Rowena go to an Ohio farm to investigate, they find themselves battling not only mystical enemies but mother nature. During the outing, Willow realizes she's starting to have strong feels for Rowena.
In "Gangland," while coming home from adult education class Faith comes upon a group of 'lost girls' who have Slayer Strength and banded together. She tries to convince them to join the Council. In "Lessons Learned," as Kennedy grapples with the decision to stay or leave the Council, Faith and the watchers try to recruit the newfound rebels to their cause, including one young woman named Mia who takes a liking to Kennedy. In "High Art," as Giles celebrates his 50th birthday, he's faced with the death of a new watcher recruit, and a painting he acquires at an auction with Becca turns out to be more than just a pretty picture, instead showing a window inside himself. While Giles and Becca consummate their relationship, Amy returns to put a hex on Willow, Faith and Xander, making them reverse in age in "Child's Play." As the watchers and Ssayer prepare for the Wiccan holiday of Beltaine, in the episode "May Day," Bonnie and the Presidium cast a spell on various religion groups to attack the Council. In "Another Day," Faith is kidnapped and placed as bait inside a cave. Buffy and Kennedy rescue her, but not without Rona being killed. In the Season One finale, "Another Apocalypse," the gang works together to take on the Presidium, each using their skills to foil the plans of the Engineer. (CLICK HERE to Read the Season 1 Episodes)
Season One
A New Home…New Allies…New Big Bad…
Willow, Giles, Faith, Kennedy, Robin and Andrew set up shop in Cleveland along with fellow watcher Rowena Allister. Later they are joined by Xander and take on the Big Bad known as the Presidium and a creature named the Engineer.


SEASON 1 OVERVIEW – SPOILERS AHEAD

Watchers Season One contained 24 episodes that began in September 2003 – May 2004. As the core group begin to set up the 'New Council' they find themselves faced with thwarting the efforts of surviving 'Old Guard' members determined to take control. They meet a watcher named Rowena Allister who becomes one of their greatest allies and joins their team. During their struggles to build the new council they find themselves facing off against an unstoppable foe, The Presidium.
Season Two
New Couples…Old Friends…And the Return of a Big Bad…
The Presidium still continues to be a threat thanks to its member called The Lover. Meanwhile Giles takes the plunge into married life, while Willow and Kennedy move on to new loves.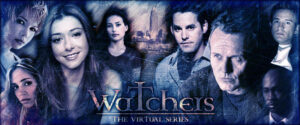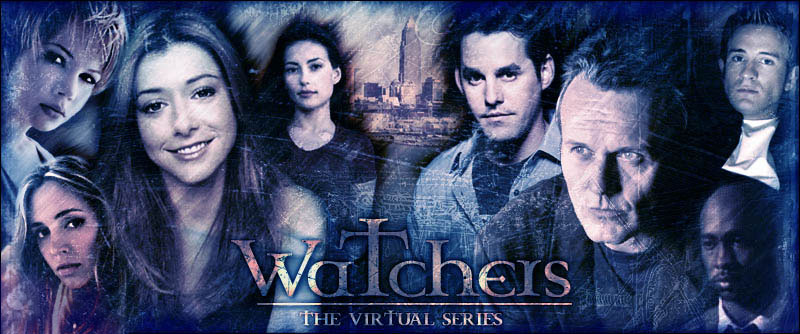 SEASON 2 OVERVIEW – SPOILERS AHEAD

Watchers Season Two contained 24 episodes that began in September 2004 – June 2005. Learning they didn't defeat The Presidium, the Watchers spend their season trying to eliminate them once and for all. During this year Giles marries a bookseller, Becca, and she gives birth to Giles's daughter, Elizabeth. Meanwhile the relationships of Willow and Rowena, Robin and Faith and Kennedy and Mia grow deeper.
Season Three
Motherhood…Growing Pains…And the Touch of Angels…
Faith comes face-to-face with the son she gave up for adoption while the Council has to deal with the threat of exposure to the world. New alliances are made, new lovers are put at odd and friendships are tested in a season that ends with, you guessed it, an apocalypse of heavenly proportions.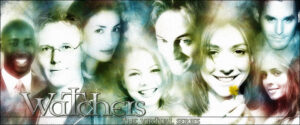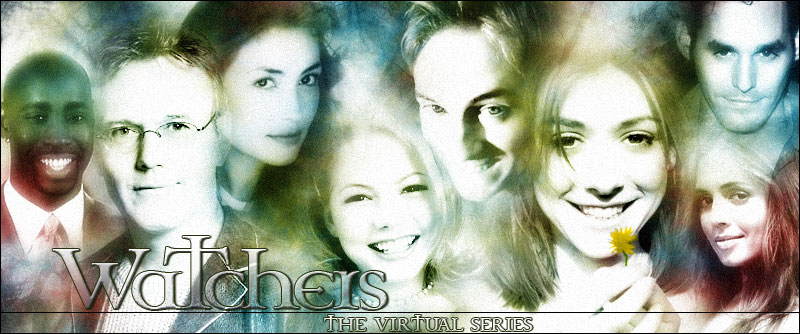 SEASON 3 OVERVIEW – SPOILERS AHEAD

Watchers Season Three contained 24 episodes that began in September 2005 – June 2006. Giles decides to retire from the Council to raise his family and names Rowena to his position of Head Watcher. The move puts High Priestess and love Willow in constant conflict with each other. Deciding that her relationship means more than her career Rowena calls in someone she feels is the best candidate to oversee the Council in her place. In the meantime, the Council must face off against the forces of darkness with help from heavenly creatures. In the end, the world learns of their existence.
Season Four
A new marriage…An unexpected death…And a morally upright Big Bad…
A man tortured by his past has a plan to prevent the world from further harm that ends up having a devastating side effect. It's up to the Watchers Council to set things right to save the innocents of the world, not to mention their own friends and lovers.
SEASON 4 OVERVIEW – SPOILERS AHEAD

Watchers Season Four contained 24 episodes that began in September 2006 – June 2007. The Council, now in the spotlight of the world, must balance between public relations and public protection. Jason Felix heads an organization called Bureau Nine, which seems to do the same thing as the Council… but for a fee. When Felix tries to improve mankind by controlling magic things get beyond his control. Together with the Council they look for a way to save the world from losing magic forever.
Season Five
A couple of births…A few funerals…And an action packed end to the Watchersverse…
The Council merges with another supernatural firm to give them the ultimate advantage against evil. The members of the council move from young adults to full-fledged adulthood in various ways. For Willow it's when Rowena gives birth to the future generation of Watchers Council in more ways than one. In the meantime, the team battles an untouchable foe who has no will of their own.


SEASON 5 OVERVIEW – SPOILERS AHEAD

Watchers Season Five contained 27 episodes, including a three-part finale, that began in September 2007 – October 2008. Amid flashbacks to the past and flash-forwards to the future, the Council tries to readjust to many new staff members with their own way of doing things while coming under attack by political leaders. At the same time, a new demonic terrorist group arises. But all of this proves the handiwork of an ancient talisman of vicious evil, the Loathestone.
Beyond Season Five
Marriages, Monsters & Mayhem
We plan on 'getting the band back together' in 2022! Executive Producers CN Winters and Susan Carr are working with writer/producer Dan Joslyn, DragonWriter17 and art director Robert Kidman, but it's going to take some time for new content. We're sure once you see everything we put into these episodes, thanks to many talented people over the years, you might understand – it's a lot of time consuming work so it won't be immediately.
However, we still have fans who decide to stick around so we're happy to consider the prospects of more Watchers now and then like Special Assignment and upcoming projects like the TV movie 13th Hour and the mini series Watchers: ReVamped, which is set a decade or so after the end of Watchers. If you worked for Watchers back in the day and we've lost touch, but you'd like to 'play' again simply contact us. We'd love to see you.

Special Assignment Pt. 1 – TV Movie – SPOILERS AHEAD

Set in 2014, the 'great blue slayer' will stand against demon kind but not without sacrifices. As Kennedy grapples with turning 30 and losing her powers, Willow tries to make some Godly connections for the council. The rest of the team looks into stopping the 'UnCreation' prophesy.
Special Assignment Pt. 2 – TV Movie – SPOILERS AHEAD

Willow astro-projects to try to rescue the lost crew while the crew themselves try to thwart a genocide. They need reinforcements but will the support arrive in time or will they have to find the strength and courage to save the world alone.
13th Hour – TV Movie – SPOILERS AHEAD

Liz Giles, daughter of Giles and Becca, is turning 21 but much like her Aunt Buffy, her birthday is not turning out as planned.
Watchers: ReVamp 2020 – 6 Episode Mini-Series – SPOILERS AHEAD

Set nearly 15 years after Watchers ends we catch up with the gang and their growing families as they battle evil of epic proportions.