Season 3 Recap
Giles decides to retire from the Council to raise his family and names Rowena to his position of Head Watcher. The move puts her and Council High Priestess (and her lover) Willow in constant conflict with each other. Deciding that her relationship means more than her career, Rowena calls in someone she feels is the best candidate to oversee the Council in her place. In the meantime, the Council must face off against the forces of darkness with help from heavenly creatures. In the end, the world learns of the existence of the Council, magic and the supernatural.

In "War Zone," bringing up baby is on the mind of Rupert Giles and his wife Becca, leading the elder watcher to a decision to retire from the Watchers Council. Meanwhile, a giant sand demon threatens to wipe out U.S. troops in the hostile desert warzone of Iraq. While Giles pays a call to Alex Neel and is introduced to Lucifer – looking very much like someone from Giles's past – a crack team of witches and slayers, including Buffy Summers, visit the war-torn Middle East. In "Maternal Instincts," Faith's past catches up with her, as memories of Richard Wilkins stand to help or hinder her in saving her son, Norman, from death's door, while Robin attempts to reconcile himself to a new way of life without his leg. In the meantime, Shannon, a young slayer with a mean baseball swing ,bonds with the boy, while the watchers and the slayers search for a demon horde looking for a surrogate mother. In "Both Sides Now," Rowena learns the hard way that rank has its disadvantages as well as its privileges, when she must call Xander, Vi, and Willow before a Council tribunal on charges of negligence in the death of several slayers and the fall of the Vancouver Branch of the Watchers Council. In "Just the Facts," the council meets reporter Robert Devlin, who is trying to piece together what happened to a group of young women who died mysteriously in Vancouver. In doing so, he stumbles onto the story of the century, in the form of the Watchers Council and its work. Rowena and the other heads of the Cleveland Council must decide whether to work the Tabula Rasa spell and remove Devlin's memory, or take Devlin into their confidence and hope that he will understand why their story cannot be written. As Willow and Rowena square off, this time over the moral implications of using the Tabula Rasa, Bonnie, Brell and the Council heads put Devlin to the test. In "Trial By Fury," fangs and claws come out for Willow and Rowena, still at odds over the spell Rowena and Kennedy did on Devlin, and for Kadin Van Helsing, who is put on trial by a special order of werewolves dedicated to their own brand of justice. Kadin must relive a painful chapter from her past while proving her innocence in the killing of a group of werewolves. As Kennedy lends her support, Kadin's life hinges on the decision of the jury of werewolves, and the cunning abilities of her lawyer Elana Velmont. Meanwhile, Rowena and Willow's fangs are showing too, as their resentments toward each other build to a fever pitch, while an unsuspecting Skye has a disturbing encounter with the psychologically unstable slayer, Dana. In "Luna," the watchers wonder what do James Bond, a stuffed cat named Madame Fliffertop, a lovesick Andrew and an army of bugs have in common? Throw in a death squad of laser squirrels, a jump-start to a reconciliation between Willow and Rowena and a vampire twelve-step program that takes abstinence to a new level, and you have one of the more madcap chapters in the Council's history.
Lives and love are "In the Balance" when a lost Monarch and Idol and a quest for closure come into head-on conflict. As Rowena and Willow rekindle their relationship, Kennedy forges a new bond with Kadin Van Helsing and an old man, Gregor Kalderas, a relation of her birth mother. Meanwhile, Dawn must come to grips with the fact that the missing Skye may be gone forever. With the kidnappings of Reteesk and Tracey, everyone, especially Dawn and Rowena, must work together, with a little help from Giles and Brell, to find the balance between the personal and the professional without sacrificing their loved ones nor losing to the new demons in town. In "Love's Labor Lost," young Richard Caperlet and his demon lover, Erios Montager, face off against their warring families and an ages-old feud. Rowena, Willow, Robin and Faith must find a way to safely bring the two bitter factions to a truce long enough to keep the star-crossed lovers from fleeing home to wed. In the meantime, a seemingly well-meaning doctor returns a slightly amnesiac Skye to the Watchers Council. Willow takes time to look into Giles's ghost problem at his new house, while an unwell Gregor Kalderash tries to hand down generations of their family's traditions and legacy to Kennedy. In "No Mercy," Gregor Kalderash begins to wine and dine the best and brightest at the Watchers Council as Rowena considers adding him to the group. But when he makes a dire prediction about Willow's and Faith's futures, the two are left with an agonizing decision. In the meantime, the recently returned Skye seems to be less available than she was when she was missing, setting Dawn on edge. A chance meeting in a bar for Skye and an unexpected face-off between Kennedy and Gregor leave no room for mercy. In "Birth Rite," Kadin Van Helsing finds the mystical 'other half' of the medallion left to her by her father and she begins a quest for her Birth Right as the heir of a long line of vampire hunters. With Kennedy at her side, a trip to a mysterious cave in the Netherlands will test more than Kadin's hunter instincts. In the meantime, Dawn grows more concerned over Skye's unusual behavior, while Vi comes to grips with having killed Kennedy's Uncle Gregor to save Willow and Faith. In "Rule of Three," a baseball card, a unique friendship and a bitter lesson in what goes-around-comes-around is in store for Shannon, as she struggles with adjusting to the death of her grandfather and becomes the target for more bullying than she can take from another slayer. Rejecting Dawn as her new watcher and feeling confused and alone, she seeks comfort in befriending a deranged creature and a newly returned Ethan Rayne, only to find that neither is quite what they seem and that the Rule of Three doesn't always hold true the way one expects. In "Roses are Red," a fight with a necromancer and a bloodstained knife wreak havoc on Xander and Vi, via a little ghost-girl named Rose who begins to haunt Xander and the Council. Fearing for the lives of his friends and colleagues and with no super powers of his own, the all-too-human Xander must play along until he can elicit help from Willow. But there is no way to defeat the ghost unless Xander spills Vi's blood in a dark ritual to kill the slayer. Meanwhile, Skye kills Bonnie and slayer Dana, which ends up putting Faith and Kennedy in a knockdown, drag-out fight…as well as Faith leaving the council without so much as a goodbye.
Faith's own faith in herself is put to the test in "The Night In Question." The senior slayer finds herself magically plucked from the highway as she flees her life and career with the Cleveland Watchers Council, only to be transported to a place where she never became anything more than a rogue slayer. Her new surroundings are all but a wonderful life as Faith battles with herself in an alternate reality where the the Mayor ascended. Next, with the Watchers Council searching for the escaped vampire Skye, Andrew and Tracey aren't certain whether they'll ever be able to spend some private time in "A Road Trip To Remember." They are thrilled when they are cleared for a Valentine's getaway to Orlando, only to find themselves pressed into service. A harrowing trip to the Everglades, a cryptic message about good guys and bad guys, and proof of the existence of angels turns their romantic vacation into something more sinister, while in Cleveland, Kennedy must search for Skye and for some inner acceptance of the beating she herself took at Faith's hands. With the capture of Skye, Buffy Summers must accept that her little sister Dawn has grown up, as Dawn struggles to accept that Skye is lost to her. In "59:23," less than an hour is all it takes for the Council to be put to the severest test of its strength and its weaknesses. In a race against time, the entire Cleveland Council must stop the detonation of a mystical bomb – with a destructive force of cataclysmic proportions – hidden somewhere in Cleveland before the hour runs out. As they disperse throughout the city, the watchers, slayers and witches, and the maverick vampire Skye, must work in small, unusual teams under a new kind of pressure – incompatibility. In the next episode, beauty's only "Skin Deep," but there are some wounds that go even deeper, as Willow, Ro, Ken and Faith all discover. Reaching a crossroads in their relationships, Willow and Rowena must come to terms with the inherent differences in their perspectives on life and the Council, while Kennedy and Faith must choose to either strengthen their friendship or abandon it entirely. As Xander and Vi finally settle back into a comfortable rapport, Willow befriends a woman whose life has been spent trying to escape her own demon and Rowena gains two quiet new friends to help her get through some lonely nights, two cats she names Marco and Polo. In "Strange Bedfellows," Kadin's testing days are never over, it seems, as the Watchers Council tries to determine if she is cut out to be a member of their force. Quick to act first and obey orders later, Kadin's hunter reflexes are proving to be a sticking point for the Council leadership and slayer patrols. While Dawn and Jeff search tome after tome for a spell or a curse that will help to restore Skye's soul, Kennedy is pressed into service to test Kadin's ability to adapt from loner to team player. The hunter and slayer's trust of one another is also put to the test when they are sent to exterminate a nest of vampires, unaware that the two queens at the center of the nest are Harmony and Luna; the strangest of strange bedfellows any hellmouth ever saw. Next, more than one person has come up with "Very Bad Ideas," as Dawn discovers a way to re-ensoul Skye, a Fellowship of less than Tolkien-esque ideals begins to spread its reach into the city of Cleveland and Andrew gets the gang involved in the home version of the Newlywed Game. Jeff's urging leads Dawn to begrudgingly seek the Coven's help in retrieving Skye's soul, while the Fellowship of Shadows retrieves a she-wolf from confinement and Marsha the dragon sniffs out Ethan Rayne in his usual place…in the middle of all the trouble. But things stand to get worse when Rowena receives a missive from the other Councils. The Watcher chooses love over duty and looks for a replacement.
In "Rules of Engagement," a nest of Strieaufix demons is in the slayers' sights. At the same time, Buffy Summers is brought to the Watchers Council by Rowena to man her chair, while Dawn strikes out on her own in a bid to get Skye's soul back. An unexpected meeting with an old acquaintance and a dire warning may not be enough to keep Dawn from a path that could have future repercussions. In the meantime, Faith, now stripped of her Council duties, goes head-to-head with a barroom full of demons, unaware of the insidious presence of the mysterious Dr. Wagner. More — and now highly visible — attacks against the citizens of Cleveland and a demon's odd comment about an impending battle stand out in warning to the Council. In "Foucault's Pendulum," an encounter with a harbinger of a doomed future for the watchers and slayers, along with an alliance with Council members destined to be born three hundred years from now, are at the epicenter of a time travel conundrum. Buffy has gone on a trip to help lay the groundwork for bringing all the world's Council Branches together in one big dialogue. But a dialogue of another sort is going on between Rowena and a mysterious time traveler claiming to be the last of the watchers, who brings with him a message of three devastating wars that pit slayer against slayer. There is only one slayer in all the world who can counter the pendulum of history's never-changing course. But will it be enough to counter all the tragedies that lie ahead for her friends and for the Council? In the next episode, "The Secret Life of DJ Trace," What do vampires juiced on juiced-up victims, freelance slayers playing by their own rules, a computer professor with a knack for robotics, Darth Vader, Reteesk, Romeo and Juliet, and a chorus line to end all chorus lines have in common? They're all part of just another ordinary week at the Watchers Council as Tracey's college radio show turns into more than just background noise for studious geeks. With less than a little prodding, Tracey fights for a strange little boy, her grades and her listener's attention as she takes her audience on a magical mystery tour, Watchers-style.
In "Ouroboros," a strange temple is unearthed on a construction site and the Watchers Council is called in to investigate the unlikely archeological find. The appearance of two sets of lawyers, whose interests in the Temple are both strong but unspecified, puts the Council on notice. Needing brains more than brawn on the case, Willow and Giles begin to unravel the mysteries of the Ouroboros, only to find themselves trapped in the collapsed ruins. As each minute passes, Giles's life fades while family and friends tearfully gather about the elder Watcher. But Giles's mind and soul follow the lead of a surprise guide through a temple out of time and space. Will the Watchers Council be doomed to devour itself, or will the watcher of the last Chosen One be able to pass on the lesson of the Ouroboros? In "Shomer," an angel appears…"For behold, I bring you tidings of great. . ." Doom. That's what's in store for the world, as the Council members are caught off-guard by a hidden herald and a smart-mouthed lawyer who just may be right about one thing – that the world is not better off for the presence of the Watchers Council. As Faith is allowed a unique revelation about slayers, the Cleveland Coven, with the help of Skye, calls Gaia – Mother Nature – for help. Buffy and Faith try to save the Council itself, as Cleveland and the world at large are suddenly rent by the worst combinations of demonic and natural disasters ever seen. The Watchers Council's last act may prove to be that of the ultimate Shomer, paying for its negligence to the world and the greater good. In the season finale, "Megiddo," the world won't listen. And what begins in Megiddo, Israel, may end in the suburbs as well as the back-alleys across the world as Hellmouths crack open with a vengeance. In spite of their best efforts to prove there are such things as monsters to the world's citizens, the Watchers Council faces the worst enemy they have ever met: human apathy. As a pregnant Becca fights for the life of her unborn child and baby Elizabeth, Vi and the other slayers suffer losses too horrible to imagine. A temple, in the lost city of "Atlantis," holds the key to winning the fight. A devilishly tempting bargain is offered to Rowena while winged demons ravage the earth. But not all winged creatures are demons, as the Council finds out when angels appear to lend a hand. Faith begins to fill a role and accept a fate that may turn the tide for all mankind and good demons everywhere, but not without paying a price. (CLICK HERE to Read the Season 3 Episodes)
Season Three
Motherhood…Growing Pains…And the Touch of Angels…
Faith comes face-to-face with the son she gave up for adoption while the Council has to deal with the threat of exposure to the world. New alliances are made, new lovers are put at odd and friendships are tested in a season that ends with, you guessed it, an apocalypse of heavenly proportions.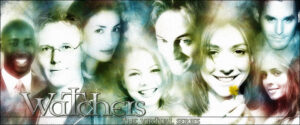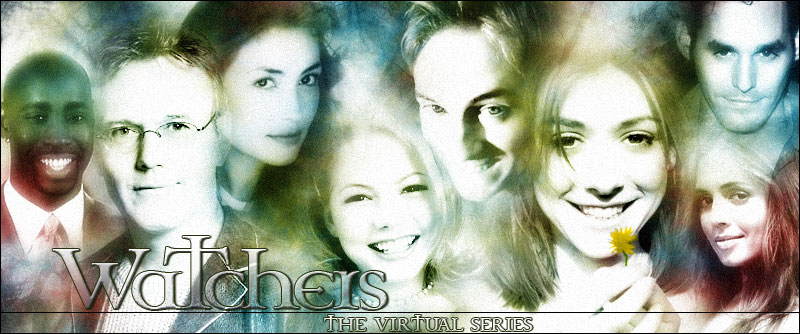 SEASON 3 OVERVIEW – SPOILERS AHEAD

Watchers Season Three contained 24 episodes that began in September 2005 – June 2006. Giles decides to retire from the Council to raise his family and names Rowena to his position of Head Watcher. The move puts High Priestess and love Willow in constant conflict with each other. Deciding that her relationship means more than her career Rowena calls in someone she feels is the best candidate to oversee the Council in her place. In the meantime, the Council must face off against the forces of darkness with help from heavenly creatures. In the end, the world learns of their existence.
Season Four
A new marriage…An unexpected death…And a morally upright Big Bad…
A man tortured by his past has a plan to prevent the world from further harm that ends up having a devastating side effect. It's up to the Watchers Council to set things right to save the innocents of the world, not to mention their own friends and lovers.
SEASON 4 OVERVIEW – SPOILERS AHEAD

Watchers Season Four contained 24 episodes that began in September 2006 – June 2007. The Council, now in the spotlight of the world, must balance between public relations and public protection. Jason Felix heads an organization called Bureau Nine, which seems to do the same thing as the Council… but for a fee. When Felix tries to improve mankind by controlling magic things get beyond his control. Together with the Council they look for a way to save the world from losing magic forever.
Season Five
A couple of births…A few funerals…And an action packed end to the Watchersverse…
The Council merges with another supernatural firm to give them the ultimate advantage against evil. The members of the council move from young adults to full-fledged adulthood in various ways. For Willow it's when Rowena gives birth to the future generation of Watchers Council in more ways than one. In the meantime, the team battles an untouchable foe who has no will of their own.


SEASON 5 OVERVIEW – SPOILERS AHEAD

Watchers Season Five contained 27 episodes, including a three-part finale, that began in September 2007 – October 2008. Amid flashbacks to the past and flash-forwards to the future, the Council tries to readjust to many new staff members with their own way of doing things while coming under attack by political leaders. At the same time, a new demonic terrorist group arises. But all of this proves the handiwork of an ancient talisman of vicious evil, the Loathestone.
Beyond Season Five
Marriages, Monsters & Mayhem
We plan on 'getting the band back together'! Executive Producers CN Winters and Susan Carr are working with writer/producer Dan Joslyn, Dragonwriter17 and art director Robert Kidman but it's going to take some time. We're sure once you see everything we put into these episodes, thanks to many talented people over the years, you might understand – it's a lot of time consuming work so it won't be immediately.
However, we still have fans who decide to stick around so we're happy to consider the prospects of more Watchers now and then like Special Assignment and upcoming projects like the TV movie 13th Hour and the mini series Watchers: ReVamped, which is set a decade or so after the end of Watchers. If you worked for Watchers back in the day and we've lost touch, but you'd like to 'play' again simply contact us. We'd love to see you.

Special Assignment Pt. 1 – TV Movie – SPOILERS AHEAD

Set in 2014, the 'great blue slayer' will stand against demon kind but not without sacrifices. As Kennedy grapples with turning 30 and losing her powers, Willow tries to make some Godly connections for the council. The rest of the team looks into stopping the 'UnCreation' prophesy.
Special Assignment Pt. 2 – TV Movie – SPOILERS AHEAD

Willow astro-projects to try to rescue the lost crew while the crew themselves try to thwart a genocide. They need reinforcements but will the support arrive in time or will they have to find the strength and courage to save the world alone.
13th Hour – TV Movie – SPOILERS AHEAD

Liz Giles, daughter of Giles and Becca, is turning 21 but much like her Aunt Buffy, her birthday is not turning out as planned.
Watchers: ReVamp 2020 – 6 Episode Mini-Series – SPOILERS AHEAD

Set nearly 15 years after Watchers ends we catch up with the gang and their growing families as they battle evil of epic proportions.
Season One
A New Home…New Allies…New Big Bad…
Willow, Giles, Faith, Kennedy, Robin and Andrew set up shop in Cleveland along with fellow watcher Rowena Allister. Later they are joined by Xander and take on the Big Bad known as the Presidium and a creature named the Engineer.


SEASON 1 OVERVIEW – SPOILERS AHEAD

Watchers Season One contained 24 episodes that began in September 2003 – May 2004. As the core group begin to set up the 'New Council' they find themselves faced with thwarting the efforts of surviving 'Old Guard' members determined to take control. They meet a watcher named Rowena Allister who becomes one of their greatest allies and joins their team. During their struggles to build the new council they find themselves facing off against an unstoppable foe, The Presidium.
Season Two
New Couples…Old Friends…And the Return of a Big Bad…
The Presidium still continues to be a threat thanks to its member called The Lover. Meanwhile Giles takes the plunge into married life, while Willow and Kennedy move on to new loves.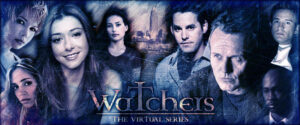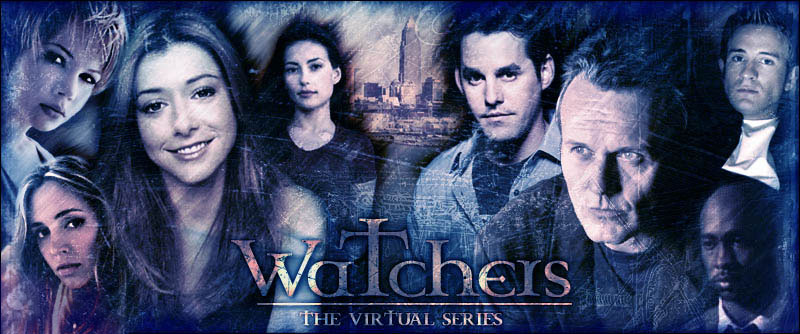 SEASON 2 OVERVIEW – SPOILERS AHEAD

Watchers Season Two contained 24 episodes that began in September 2004 – June 2005. Learning they didn't defeat The Presidium, the Watchers spend their season trying to eliminate them once and for all. During this year Giles marries a bookseller, Becca, and she gives birth to Giles's daughter, Elizabeth. Meanwhile the relationships of Willow and Rowena, Robin and Faith and Kennedy and Mia grow deeper.